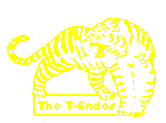 We welcome all contributions to the T-Ender. Please send any material for the site by
email to the address above.

Disclaimer
The views expressed on these pages are not those of Gloucester City A.F.C., its directors or officials, or of any other company mentioned. Neither do they represent the official views of the Gloucester City Supporters' Club or its committee.
While we make every effort to ensure information placed here is accurate we do not accept responsibility for errors that may occour. If you do find a mistake please let us know.

All pictures and material unless otherwise stated are the site's own and is
© www.t-ender.co.uk
All material may be reproduced with permission and appropriately attributed.
Saturday 23rd October 2004

Dunstable Town

at Creasey Park Stadium

Southern League Premier Division
(match 13)

vs

Gloucester City

Dunstable Town

0

Scorers: -

Gloucester City

2

Scorers: Davis (3), Mustoe (60, pen)
City Side:
Bath, L.Smith, Knight (M.Thompson 54), Griffiths, Tomkins, C.Thompson, Mustoe, Webb, Addis (Reid 86), Davis (Cox 81), Wilkinson.
Subs not used: Harris, Rimmer.
City Bookings: Tomkins (foul)
T-Ender Man of the Match: Lee Smith; always available as an attacking outlet and worked hard tackling back until the final whistle.
It would be fair to say that if you're in low spirits arriving at a rain soaked Creasey Park isn't an obvious place to go to be uplifted. City's fans could be forgiven for being in low spirits after midweek results dumped us on the bottom of the table and reeling from the shock decision of last season's top socrer Andy Hoskins to walk out on the club in favour of Cinderford. However there was something to pick up from Dunstable. This was a club re-started by their fans, and despite the delapidated ground and the lack of support through the gate they have managed a string of promotions and play at the same level as us. Makes you think doesn't it?

Back on the pitch City's players at least didn't seem too depressed, despite the glum surroundings and even glummer weather. Burns threw Daryl Addis straight into the side for his debut up front, but his partnership with Jimmy Cox will have to wait as he was limited to the subs bench due to his bruised ribs. Instead Lee Davis got another chance up front. The one surprise selection saw Keith Knight start at left wing-back ahead of Marvin Thompson who was also on the bench along with Adie Harris.



Top: Square Dancing in the rain at Creasey Park
Bottom: Mustoe pulls Wilko away as he reacts to a late tackle

The match started frantically and it was the City side setting the tempo as they tried to exorcise recent poor form and the memory of Hoskins. Both Davis and Addis showed some lively touches and Webb was immediately finding some space down the left flank. Dunstable were stretched and must have been relieved to clear their lines, but actually this just sucked their defence too far up field and they got caught on the break. A perfectly weighted 40 yard ball from Mustoe emerged from the gloom and Davis nipped goalside of his marker to push the ball into the box. The youngster was being forced to his left but as the keeper came out Davis kept his head and squared his body to side foot the ball neatly inside the far post. The City players went understandably potty. It was 375 minutes (and one month!) of frustration since City last scored, and suddenly it seemed very easy.

For a ten minute spell it looked as if this would lead to the opening of the floodgates, but as it turned out we coouldn't really capitalise on our domination of the match and the only floods were those threatened by the expanding puddles. Smith charged down the right and having seen his cross pushed back out to him he tried his luck with a dipping drive over the bar. City were playing some slick football on the wet surface and the home side could not live with us. Daryl Addis looked lively and played some neat two touch football with Webb who almost manged to get the debutant striker through on goal but the keeper just managed to beat him to the ball. Davis was also causing the home defence problems and he also wriggled clear but this time he was stretching to shoot and his effort was poked wide.



However City were soon forced to defend after a halt in play for Knight to get treatment on an injury seemed to rob us of the momentum we'd built going forward. The match descended into a midfield war of attrition with Mustoe and Wilkinson having to work hard closing down space and generally getting in the way of any Dunstable efforts to put together much in the way of passing. This was a scrappy phase of the game but it proved pivotal as we withstood the home team's pressure. In fact Dunstable failed to produce any real efforts on goal, once they looked to have got clear but Smith did well to get back and nick the ball away and the crosses that did come in were comfortable for Bath or the defence.

City were still trying to play some good football and were constantly looking for opportunities to either move the ball wide or give Davis or Addis something to run on to. One of the fears following the departure of Hoskins is that City will struggle to adopt their way of playing, now lacking the big target man capable of holding the ball up while support arrives. There was some evidence of this when a few defensive clearances from our lines found themselves immediately returned as we lacked anyone able to hold onto the ball and help relieve the pressure, but generally our players were bright enough to change the play. We either passed the ball short or played the ball behind the opposition to try and utilise the pace of the forwards. At one point Davis almost got on the end of a Matt Bath clearance, showing you don't need a big forward to be able to use the route one approach at times.

With the match largely being stuck in the middle third and the surface being wet and slippy there were some moments when the match threatened to turn ugly. Wilko was caught by a very late tackle and reacted badly and as he tried to swing punches he was pulled away from the incident by Mustoe who gripped him in a tight bear hug. Perhaps our central midfielder shares more than a passing resemblence to the third in line to the throne. As it was he escaped with a talking to while the original challenge merited a booking. A few minutes later Lee Smith was also ticked off after he caught the Dunstable keeper trying to reach a loose ball, but the wet surface was now seeing several players lose their footing. At one point a Dunstable player entertained all by tumbling over with no-one near him.


Left: Thommo looks to push City forward again at a sparsely populated Creasey Park
Middle: Webb surges past the Blues full back.
Right: Addis comes close to nicking the ball past the home keeper.

City managed to steady the ship and by the end of the first half it was City who again looked the more likely side to score. Addis showed what he is capable of as he turned a defender to send in a raking shot and City enjoyed a string of corners. A well flighted dead ball from Knight was headed just over by Tomkins and from another corner Davis almost latched onto a loose ball but it was scrambled clear. Despite the difficult conditions City were playing some good stuff, particularly memorable were a classic trick by Webb to leave his opponent trailing helplessly behind him and a strong run by Chris Thompson as he carried the ball out from defence, imperiously gliding past two midfield challenges before finding Smith on the right. Dunstable have had some excellent results recently but there midfield never got going, perhaps in large part to the amount of effort being put in by our team. The conditions did cause their own problems though, Bath almost caught out by a high ball that swirled alarmingly in the win as it dropped goalward.

The second half started scrappily as the two teams tried to assert themselves. Mustoe seemed to have risen to the occasion and was giving a real captain's perforamance, encouraging his side and appearing everywhere to win the ball and prompt the side forward. Any efforts to push us back were quickly extinguished, Tomkins was booked for an overly robust bit of defending. Dunstable had clearly been told to tighten up at half-time and for a short while they seemed to have succeeded, especially trying to get close to Smith to block City's main attacking threat. The home side had more problems to deal with though as Marvin Thompson replaced Knight on the left and made an immediate impression, beating his marker only to be tripped as he surged forward. That earnt a booking and after that his opponent was reluctant to get as close, and minutes later he was again set clear by Mustoe and he in tun put in Davis. He held off a defender and fired his shot across the goal only to see it fly inches the wrong side of the post.

Mustoe puts aside any jitters and finds the net with his spot kick

City needn't have worried too much as attempts to close down Smith were singularly ineffective. The markers were too tight and Smith is too quick for that, able to knock the ball into space and beat the opposition through sheer pace. Webb slid the ball square to Smith who surged past one defender before cutting inside another and heading into the box. As he ran in a desperate leg came out and tripped him. It looked a clear penalty but for an agonsing moment the ref stood with his arms clamped behind his back, and everyone remembered this was the ref who failed to award us a similarly clear cut penalty when Cox was tripped at Cirencester last year. Thankfully the ref did finally point at the spot and the next wave of panic hit the travelling City fans as they realised Hoskins has departed, Knight had been subbed and Cox was on the bench. Mustoe missed a couple of poor penalties last season and it must have taken some courage to pick up the ball to take what could be a crucial opportunity to turn round our lacklustre season. With fans hiding behind their hands Mustoe picked up the ball and knocked it coolly into the corner of the net.

Dunstable looked shell shocked and again we had the opportunity to really bury the opposition and for a while it looked like being a matter of how many we could get. They had no answer to Smith on the right or Marvin on the left and both Addis and Davis continued to create good space. Addis played a clever diagonal ball from deep to put Smith into space and he skipped past one defender before seeing his low cross scrambled away from Davis. On a luckier day Davis could have grabbed a hatrick, hugely unlucky not to get another as he raced clear from an Addis pass only for keeper Paul Taylor to get just enough on the ball to push it on to the post.



City were playing some sparkling football but the last ten minutes saw Dunstable rally and at last they forced Matt Bath into some meaningful action, the keeper forced to stretch to tip over a rasping drive from just outside the penalty box. City started to take off some tired players. Lee Davis had enjoyed his best game in City colours but was replaced by Cox, still nursing his rib injury. Even in the closing stages Cox had an opportunity to stretch his legs after a Webb through ball put him in for a low shot from 20 yards. To their great credit City were working hard right to the final whistle and were determined to deny Dunstable even a consolation goal. Smith made a series of timely interventions down the right while Griff and Tomkins combined to keep out the threat, both having to make smart defensive headers as the home team began to find their range with crosses. Youth team product James Reid got a chance to make his Southern League debut in place of Daryl Addis who had acquitted himself well in his first game for City. Reid added some extra cover in midfield but still Dunstable came close to finding the net, Bath getting down well to a drilled effort through a crowded goal mounth and then recovering exceptionally to block the effort from the rebound.

When the final whistle came it was greeted with huge relief by players and fans alike. The terrible run has come to an end and hopefully the goals and the points will inject the self-belief which we have lacked in recent months. A delighted Burns ran on to the pitch punching the air in triumph, the victory is timely for a man who has had a lot on his shoulders and after some unfair criticism can only have seen Hoskins' departure as a further slap in the face. On this performance that setback is not the end of the world, this team can still deliver.

* City's long awaited victory lifted us from the bottom of the table and up four places to 18th, out of the relgation places on goal difference. The win ends a run of 12 games without a win, 10 of them in the league. We can now point to a prouder record having not conceeded a league goal for 357 minutes - a defensive record we need to build on to continue climbing the table.

Elsewhere the SL Premier continued its slightly contrary pattern. The wet and windy conditions may have played a part as managerless Aylsebury nicked a surprise 1-0 win at leaders Chippenham, while Halesowen were thumped 3-0 at Bedford who scored all their goals in a ten minute blitz early in the second half. Histon gained ground at the top of the table with a comprehensive 5-1 win over Bath City, while City's next opponents Banbury continued their good home form with a 3-1 win over King's Lynn which leaves the pre-season favourites are now one place off the bottom. Hemel Hempstead continued to move away from the relegation spots with an exciting 4-3 home win over Rugby United who lost despite a first half hatrick from Robbie Beard. In the Western Division Hosky made his debut for Cinderford in a 0-0 draw at Swindon Supermarine in front of 73 people. Repent, repent, and save your soul.


| | | | | | |
| --- | --- | --- | --- | --- | --- |
| Referee: | A Field (Chesham) | League Position: | 18th (+4) | Attendance: | 95 |
| Conditions: | heavy rain | City Form: | DDLDDW | Match Report: | by t-towel |
Work commitments mean that we are keen to obtain other match reporters willing to provide details on some City matches. All text can be supplied by email, with no need to worry about web design or formatting. If you are interested please contact the T-Ender.