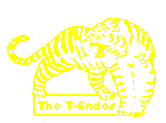 We welcome all contributions to the T-Ender. Please send any material for the site by
email to the address above.

Disclaimer
The views expressed on these pages are not those of Gloucester City A.F.C., its directors or officials, or of any other company mentioned. Neither do they represent the official views of the Gloucester City Supporters' Club or its committee.
While we make every effort to ensure information placed here is accurate we do not accept responsibility for errors that may occour. If you do find a mistake please let us know.

All pictures and material unless otherwise stated are the site's own and is
© www.t-ender.co.uk
All material may be reproduced with permission and appropriately attributed.
Monday 28th March '05

Gloucester City

at Meadow Park

Southern League Premier Division
(match 37)

vs

Cirencester Town

Gloucester City

0

Scorers: -

Cirencester Town

0

Scorers: -
City Side:
Bath, Smith, C.Thompson, Griffiths (M.Thompson 69), Tomkins, Burns, Mustoe, Harris, D.Addis, Knight (Webb HT), Wilkinson (Varnam 57).
Subs not used: Reid, Bennett.
City Bookings: D.Addis (diving), Tomkins (total mystery), C.Thompson (foul), Mustoe (foul), Griffiths (dissent),
T-Ender Man of the Match: Neil Griffiths; again a steady and reliable defensive display despite his nagging injury.
This was not one for those with attention deficit order. It can be estimated that in the whole ninety minutes of the match only four or five interesting things happened, and one of those things involved a seagull trying to take away a beer barrel cap and repeatedly dropping it. The beer barrel cap was red. The match was grey. And dull.

You had the impression it was all going to be so different. City still need points to ensure safety from relegation, while a few good wins would catapult Ciren back into promotion play-off contention. As it was, both sides huffed and puffed, but never looked at all convincing in attack. Too many passes went astray and too few players showed any real ambition to make the kind of runs that would open up either defence. There was no lack of effort, but no real spark as the two teams pawed at each other like two sluggish, flabby veteran wrestlers. Perhaps we paid the price for watching sides that had played just two days previously. Certainly something was missing from what has previously been a rather tempestuous and at times spiteful local derby.

Both managers added to the strange atmosphere on the pitch. Hughes had his side sat very deep as if expecting to have to withstand a battering from the City attack. When that did not materialise it took the Ciren side a long time to try and get on the front foot and by that time they seemed resigned to getting a point. Burns meanwhile seems to have had one of his occasional tactical brainstorms, the results of which are rarely pretty. There is an old rule about changing one thing at a time, but with players all over the place the City side looked as disconcerted as their fans.



Addis is booked for diving.
You have to say the lad in the bottom right has a point.

Oddly enough the sight of Adie Harris up front didn't seem to fill anyone with a great deal of confidence, especially when Lyndon smashed up a high ball for poor Adie to try and win. It's bad enough watching us doing that to the likes of Addis and Cox, but when your target man is one of the smallest players in non-league football it's as pointless as trying to stop a forest fire with a thimble of water. Chris Thompson is generally accepted to have been a revelation since his return to midfield, so naturally he found himself at left-back. Lee Smith and Addis look to be building up a good understanding and Smith has hit two vital winners in his last three games. So he's off to right-back, while poor Marvin must have wondered what on earth he'd done wrong to find himself back on the bench. It was all the right bits, but not in the right place.

It's worth spending some time writing about the odd team selection, simply because it fills up space you'd otherwise fill talking about the exciting action on the pitch. I'm struggling for material here. There was all the usual stuff; the odd tackle or pass and too many aimless headers. What there wasn't from either side was any pattern, and real moment of inspiration or cutting edge.

Largely the ref tried his best to stir up some controversy, but it was more strange decision making than full on incompetence. Probably his oddest moment came as City made a rare incursion into the Ciren box and Addis took over after a good move involving Chris Thompson and Mustoe. His run took him to the by-line and he turned back to run into the box when two defenders converged on him. The ball was cleanly won by former City veteran Alan Bird (now aged 53), and Addis seemed to simply fall as he was squeezed out. The T-End optimistically screamed for a penalty (we've got our job to do too), but it plainly wasn't. We all had a moment's excitement as it looked as if the ref was pointing at the spot, but then we realised he was booking Addis for what they like to call 'simulation', or diving to us mere fans. It was a strange decision as Addis fell, but had not himself appealed for a penalty and hasn't previously looked like the diving type. I'm not at all convinced the ref was right on that one.


While Ciren looked like a pretty good side at times, they looked like a pretty good side not playing very well. All their passing seemed pretty impressive until they were confronted by one of our players when they seemed to lose their way entirely. Griff must have lost count of how many simple tackles he won, and even Burns was finding plenty of time to be able to break up attacks as Ciren were not exactly lightning quick in their play.

We probably shaded the first half, but nearly all our attacking threat was coming down the right flank from Lee Smith. He seemed able to beat their makeshift full-backs easily, but Ciren soon sensed their vulnerability and cynically hacked him down every time he looked like getting free. It was ugly football, but you could hardly blame the visitors, and the ref didn't really get a grip on it and we found the route to goal firmly booted closed. That didn't stop Smith producing one of the few moments of class in this dull event, and going as close as anyone came to a goal. A half-cleared Knight corner fell to him on the edge of the area and he kept his shape well to volley in a sweetly struck shot that was dipping just below the bar before an equally fine save from Ciren's Mark Bryant. He may be small, but he seems to have springs built into his boots.

It was hardly pressure that either side was exerting, but whatever it was it was far from one-sided. Matt Bath soon got a chance to produce his own magic. Wilko was turned by Gareth Hopkins and his pass found Jody Bevan and the former City youth striker pushed past Burns to fire in a low shot that needed Bath at full stretch to be able to tip it round the post. The chances for both sides were so rare that neither side could afford to spurn those that did arrive. Ciren could also have done better when a deep looping cross was met at the far post, but the Ciren man pushed his header wide when he really should have put it at least back across the goal. Defences were very definitely on top and neither looked likely to be forced to give up much by the fairly lacklustre attacks on show.



Top Left: Harris and Addis see Ciren's Mark Bryant snuff out any danger of something exciting happening.
Top Right: Griff gets down to do that defender boogie.
Bottom: Both benches watch in mild interest as Smith closes down a Ciren attack.

We tried to settle into a better shape during the break, with Webb replacing Keith Knight and players being restored to slightly more familiar positions. Chris Thompson went into the back three and the gaffer gave himself a brief spell up front, and at least he has the height to do a fair impression of a forward target man. Our plans to try and shake the game up a little needed to be re-picked after only a few minutes though, as Wilko limped off with what is feared to be a couple of broken toes. Andy Varnam came on and went up front with Burnsie now in midfield. The boss soon looked really out of puff and one of the few moments of genuine entertainment this match provided was the sight of Keith Knight telling Burnsie to get back into defence before he expired. It's easy to criticise our management team at times, but you can never doubt the effort Burns puts in.

If we had shaded the first half it was Ciren who looked marginally the more likely to break the deadlock in the second half. they made a few strong runs but were having the same problem as us, with the players off the ball reluctant to make any real moves and the man in possession soon being hunted down and losing the ball simply through a lack of help. Ciren tried to vary it a little with a few high balls, but soon gave that up as a tactic as they realised Burns and Tomkins were capable of dealing with that all day. Their attacks on the flanks fared little better, with Adie Harris or Smith simply too quick for the Ciren players to get in behind. however, the extra pressure did mean we weren't getting forward down the wings so much ourselves. The whole thing had stalemate written all over it.

The ref had plainly had enough of this rubbish and decided to intervene. Mustoe made a rather silly tackle on the edge of the box, leaving his trailing leg out for Ben Fitch to fly over. The Ciren winger travelled a good distance but even he must have found events exceeding his wildest dreams when he picked himself up to find the ref pointing at the spot. There was little doubt that the foul had been conceded, but it seemed to all apart from the officials it had happened a good couple of yards outside the penalty area. Then a very dangerous precedent was set as the ref seemed to give way under the heated, if justified, protests of Burns, Mustoe and an unusually incensed Matt Bath. The ref duly went to chat to his assistant, but the linesman had himself already taken up position for the penalty so that seemed fairly academic. The only consultation I could see was which of our three most vocal players was going to get a red card for dissent. But then, incredibly, the ref changed his mind. Ciren were given a free kick not a penalty, and peace was restored. Of course, we all know Burns and Mustoe are incapable of keeping their gobs shut, and this incident is only to convince themselves they are right even more often. It was a brave decision by the ref to admit he'd got it wrong, but it was a bizarre interlude and of course one that could have been avoided had the linesman or the ref got it right in the first place.




Marvin shows his mettle as City get back to back shut outs for the first time since October.

The Ciren free kick was duly fired into the wall and City survived the most severe threat we had on our goal all through the match. One further good run by Fitch was closed down with a smart tackle by Griffiths, but that was the last of the game for Griff who is nursing a slight groin strain picked up at Halesowen last Saturday. Marvin got a chance to point out he's in pretty good form himself at the moment, and he certainly picked up on the solid defending that we managed right through the match.

Just before Griff departed he became the fifth City player to be booked, on the advice of the hapless linesman who hadn't been sure if the earlier foul was inside or outside of the line several yards away from where the fouled player even landed! It seemed to be a booking for something off the ball, it certainly didn't seem to be for a foul. One more booking could have landed City a fine and more trouble with our friends at the FA. The ref certainly did well to manage to get a total of eight bookings out of a match that hardly had the fierce passions you might have expected from a derby encounter. I think every single one of the Ciren bookings came after fouls on poor put upon Lee Smith, they must have had some sort of rota system for fouling him. The good news was that the ref was being assessed on this game, so that should be the last we'll be seeing of poor Mr Darlow!

People could have been excused for leaving this one early as it wasn't exactly the most entertaining thing ever seen at Meadow Park. It could have almost been a bad decision though as for a moment it looked as if City had nicked it with a glorious late winner. Smith cut in from midfield and his through ball to the right flank suddenly cut through the Ciren defence. Webb picked the pass up and made for the by-line, pushing past one before cutting in a low ball across the six yard box. The Ciren keeper was stranded and it looked as if Chris Thompson must score as he ran in. Somehow though he got beneath the ball and it ballooned over the bar, and another all too rare chance to gain all three points was gone.

Thankfully there were now only a few more minutes of this dreadful tedious stuff to endure before the final whistle went. All the players tried their best, but this was actually a great advert for bank holiday gardening. On the vindictive side, the draw probably did Ciren more harm than it did City, but we still need another win to feel entirely comfortable when looking at the league table. This could have been it, but we had no magic ingredient.

The other sad thing to come out of this match was the departure of a BBC Radio Gloucestershire reporter, never to return. It seems the reporter, who as misfortune would have it is also a regular City fan, was so badly and rudely treated by some City officials he, and the radio station, won't be coming back. As a reporter he wasn't even accorded the courtesy of being able to use the press box. The City officials concerned need to ask themselves exactly what they think this has achieved. Whatever we may think of the station's controllers there are ways and means of influencing the media, and that wasn't it. We have some stormy times ahead of us and will need all the friends we can get, and that's a few more lost because of what? Not one of the greatest moments of diplomacy of behalf of our club.

* Our dull draw does at least mean that the points meter keeps ticking over and we are surely now edging towards securing our position in the Southern League Premier for next season, still in 14th place but with our points cushion cut to eight precious points. Our improved results have come just in the nick of time as a few other sides are also now recovering their form. Perhaps the biggest shock saw Dunstable, now under the management of Kerry Dixon, beat local rivals Chesham 3-2 with a winner from Andrew Findlay three minutes from time. Another result that could prove crucial saw Hitchin's concerns deepen as they were thumped 4-1 at home by Hemel Hempstead who also seem to have found new hope through a change of manager. Managerless Solihull look to be in deep trouble at the bottom of the table after a 2-0 defeat to Banbury whose current form suggests they will pull themselves clear. It looks all but over for Stamford too, they were dispatched 4-0 by King's Lynn.

Funny goings-on at the top of the table where Chippenham's wobble is starting to look terminal as they lost 3-1 at Tiverton. Having equalised due to a mistake by the Tivvy keeper with just nine miunutes left the Wiltshire side must have hoped for a good point at the Ladysmead, instead late goals from Kurt Nogan and Jamie Mudge made sure they went home with nothing. Histon will be kicking themsleves as they failed to take advantage, losing 3-2 at Grantham thanks to a penalty hit by Jason Turner, formerly with the Stutes earlier in the season. A win would have taken the Cambridge side to the top spot, but they will still fancy their chances as they remain two points behind Chippenham with two games in hand.

| | | | | | |
| --- | --- | --- | --- | --- | --- |
| Referee: | M.Darlow (Bedford) | League Position: | 14th (=) | Attendance: | 523 |
| Conditions: | hazey sunshine | City Form: | DWLWDL | Match Report: | by t-towel |
Work commitments mean that we are keen to obtain other match reporters willing to provide details on some City matches. All text can be supplied by email, with no need to worry about web design or formatting. If you are interested please contact the T-Ender.