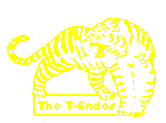 We welcome all contributions to the T-Ender. Please send any material for the site by
email to the address above.

Disclaimer
The views expressed on these pages are not those of Gloucester City A.F.C., its directors or officials, or of any other company mentioned. Neither do they represent the official views of the Gloucester City Supporters' Club or its committee.
While we make every effort to ensure information placed here is accurate we do not accept responsibility for errors that may occour. If you do find a mistake please let us know.

All pictures and material unless otherwise stated are the site's own and is
© www.t-ender.co.uk
All material may be reproduced with permission and appropriately attributed.
Saturday 4th December '04

Gloucester City

at Meadow Park

Southern League Premier Division
(match 19)

vs

Bedford Town

Gloucester City

2

Scorers: Knight (34), Eaton (58)

Bedford Town

2

Scorers: Challinor (22), Fewings (24)
City Side:
Bath, L.Smith, Knight (Cox 65), Griffiths, C.Thompson, Burns, Mustoe, Webb, Eaton (Davis 82), Addis, Wilkinson.
Subs not used: Tomkins, Reid, Harris.
City Bookings: none
T-Ender Man of the Match: Darryl Addis; good movement and at the heart of our better moments in attack.
This was always going to be a tough encounter for City against a Bedford side who were the form side in the division. Having gone two down in the opening quarter of the game it would have been all too easy for us to cave in, but this side is starting to find its feet again and we battled toe to toe with the visiting side to pull level and in the end will regret not managing to take all the points in a hugely entertaining action packed match between two sides both trying to play proper attacking football.

The City team selection was perhaps unsurprising with Burns keeping faith with the same start that started against Chesham a fortnight ago, but it was perhaps a little odd to see Lyndon Tomkins pass a fitness test but only make the sub's bench while the young hero of that game Michael Noakes will have to wait a little longer to extend his reputation in the first team. Perhaps the most frightening selection was that of Addis' bleached blonde hair, beware all. Bedford meanwhile were able to choose their lethal front pairing of Chris Dillon and Paul Fewings who have been grabbing the goals to propel them up the table with five consecutive league victories.

The match began typically tentatively with both sides treating each other with a little too much respect and the ball pinging around midfield as the players found their range. However it wasn't too long before the dangerous former Scottish youth player Chris Dillon managed to find an alarming amount of space on the right of the box but his shot was wild and cleared the T-End, but our defence had been warned. City were enjoying more of the possession in midfield but while we struggled to convert that into chances Bedford seemed to find gaps in our defence too easily. Lee Smith had his manager to thank as he lost possession and the dangerous looking cross was cut out by a Burns header. Moments later Dillon once again wriggled free of Burns and slipped past Griff only to see Matt Bath rush quickly out of goal and save with his legs.



Mustoe wins one of many midfield battles

However we have long been a side able to break out of defence well and the pressure almost worked to our advantage when Tom Webb cheered the home fans by charging out of his own area and running deep into the opposition half with the Bedford defence retreating before him. He found Addis on the left and he held the ball up well and checked inside before arrowing a cross towards Eaton who just could not dig out a shot before being tackled. The resulting corner caused further problems for the Eagles and their defence only hacked the ball back to Mustoe who put Addis in again down the left flank. He produced another superb cross into the box and Wilkinson rushed goalwards, his flick only just brushing over the bar.

City were exerting some real pressure now and came close to scoring a few minutes later. Eaton brought down a high ball and found Webb in support and the youngster showed some of his best trickery to beat two men and push forward before finding Knight on the left. He jinked past one and sent over an arcing cross that found Addis at the far post and he was unlucky to see his effort bundled away at the far post. However the signs of defensive frailty were still present in our own back line with Burns fortunate to escape after a push sent Fewings flying across our own penalty area. We were just beginning to get on top though, and the early Bedford forays were happening less frequently with both Griff and Burns breaking up attacks in their infancy with crunching tackles to win back possession.

There is a great football truism that states you must take your chances when you are on top and City were to regret not doing that. Bedford midfielder Craig Rydehead went close with a fierce shot from 25 yards that Bath did well to gather but City appeared to be doing better in defence having closed down a few attacks comfortably. However a bit of slack defending proved their undoing. Former Hereford man Paul Fewings twisted and turned inside the penalty area but looked to have been headed off by a combination of Smith and Burns, but the clearance was poor and went straight to Bedford feet. The instant cross made the most of our defensive confusion and picked out Ricky Challinor on our left and he seemed to have plenty of space to crash in an emphatic volley.



City tried to rally themselves and immediately responded with an attack from the kick-off. Mustoe and Smith forced themselves down the right wing and Smith was played in outside the area but his shot lacked any real aggression and was comfortably gathered up. City were then hit by a real body blow as a straight forward ball behind our lines suddenly saw our entire defence freeze and abandon Matt Bath to his fate. Paul Fewings was left with a clear run on goal with our defence simply evaporating. Matt Bath did well to come out and make a save but he was left helpless when the rebound fell to Chris Dillon who was left with the simple task of putting the ball into the empty net. Having conceded two goals in as many minutes to a team in such form as Bedford rather suggested the match was all but over and with us being carved open so easily you could only see more goals for the visitors.

This City side is not much given to capitulation though and they showed great spirit to come back. The experience of Mustoe and Knight proved invaluable as they determinedly put their foot ton the ball and slowed the game down to rob Bedford of their momentum. Slowly we regained our balance and began to edge forward with more conviction. Both sides were trying to play good attacking football and despite the scoreline this was entertaining stuff of a surprisingly good standard, we put together a fantastic move of more than a dozen passes as we shifted from wing to wing looking for the opening. One almost came as once again Addis was able to show some guile and slip past the right back to send over another teasing cross which this time just eluded the head of Wilkinson as he made another late run into the area.

We got our just reward a little later with City now in charge of the midfield and beginning to force Bedford into some hasty defensive clearances that left their strikers short of ammunition. One clever move saw Webb skip through a challenge and his ball into the area deserved better than the hesitant stumbling effort managed by eaton as he was closed down running in on goal. However it was a sign of things to come as the next city attack was more profitable. A flowing cross field move as Smith surged down the right before finding Mustoe, who in turn checked out and stretched the visitors with an inch perfect pass to the other flank where he found Addis. The striker's cross was again testing and as Bedford flicked it away they could only find Knight popping up in a central position just inside the box. Knight showed every bit of his old class to swivel and hit a perfect rasping volley into the net. It was his first in open play this season, and whatever the rights and plentiful wrongs of the Eaton move it certainly seems to have rejuvenated the player-coach.



Top: Smith cuts inside and heads towards the Bedford penalty area.
Bottom: Burns' free kick flies past the wall but past the post.

City could even have gone level before the half time break as Bedford tried to lock down the game. Webb was again halted only by a crude challenge and that gave City a free kick 25 yards out. The player-boss stepped up to take it and produced one of our better dead ball efforts, the shot going round the wall and just a foot wide of the post with the keeper stranded. Lee Smith went even closer a few minutes later when he recovered well having been blocked on a run down the touchline he cleverly cut inside and pushed past one defender before whipping in a low shot that just slipped the wrong side of the post.

The second half started with a surge of expectation and optimism from the T-End as City got forward and almost immediately a smart Addis turn found himself room to send in a low shot that needed a save from the Bedford keeper. However that proved a bit of a false dawn. Bedford had found time to regroup and realising they were leading and under pressure seemed to have decided to get more men behind the ball and defend in numbers. This led to a frustrating ten minutes as City found themselves holding on to the ball in their own half but unable to find any room to operate closer to goal. The problem seemed typified when Chris Thompson decided to run at the Bedford defence and went past two with ease until hitting a brick wall thirty yards out.

The T-End faithful played their part though and sensing some belief may be ebbing away from the side the vocal support picked up and the players picked up the message. The simple difference between a good attacking side and a pedestrian one is the willingness of forward players to make runs off the ball and in Addis we seem to have found a genuinely imaginative attacking player. His runs created space for his team mates and his run helped create a gap that Lee Smith seemed set to take advantage of as he once again checked one way and then the other before turning inside and being spectacularly felled. This time Burns' free kick was closer to goal but his effort was high into the T-End. City were starting to find their rhythm now and when we are in our stride we are as good as anything in this division and the City fans encouraged the side to attack. Bedford were defending well but they were now looking stretched and the vital tackles were having to be made closer and closer to their own goal.

The break through came on the hour mark and it was a superb team goal. Mustoe picked up the ball deep in midfield and sprayed another pass out to Smith on the right. He charged past one man before seeking the help of Webb down the right and he took the ball on towards the touchline. Brushing the edge of the box Webb was able to stretch beyond the defender and whip in an evil ball across the face of the goal. The near post defender stretched and flicked it beyond the keeper and into the path of the grateful Jason Eaton who from close range nodded in his first goal since returning to the club on loan. The equaliser was what the City efforts deserved and was well created and it seemed the scorer was pleased to have found the net. I couldn't tell you much about that because the sight of Eaton back in a City shirt still makes me feel pretty sickly and despite my delight we were level he is not someone I would want to associate my support with.



Burns brings City forward as Bedford back peddle

With the scores now level some of the confidence that had propelled Bedford seemed to fall way and the next quarter of an hour was all City. Within minutes we almost went ahead after Addis forced a corner and from it the ball fell to Chris Thompson who flicked the ball towards the far post. It ended up with Eaton but the keeper and defender were able to push him wide and although his close range shot hit the outside of the post he never had room to strike. The next wave of an attack was halted before the half way line when Webb's legs were cynically swept away from him as he attempted a break away with three City attackers ahead and just two worried looking defenders to stop them. The resulting free kick was wasted with Eaton managing only a tame header simply collected by the keeper.

City were enjoying so much of the ball we were in danger of getting reckless at the other end and rode our luck a little as a cross ball whistled dangerously across the face of our goal. A sloppy Smith pass almost let in Dillon again and Burns needed to be alert to win the ball back before we were exposed. City threw on Jimmy Cox and Addis headed off briefly for an unfamiliar role on the right with Smith trying to attack on the left. He still does not look fully fit but Cox still adds an extra dimension with his pace and he was soon able to break clear and send in a deep cross which eluded both Eaton and Webb. Webb did well to recover the ball and again it whipped across goal and Cox was eventually able to force a corner with Bedford's defence creaking and The T-End in full voice.

The corner saw City almost grab the winner as Burns climbed highest and for virtually the first time City beat the Eagles' defence in the air. In the resulting chaos Wilko found himself with the ball inside the six yard box but he had too little room to turn in the mud and eventually blazed his shot well over the bar. Minutes later some City fans screamed for a penalty as Lee Smith charged in on the left after another clever ball from Addis. Smith went full length in the area as the Bedford defender came in, but he'd taken the ball cleanly and it was just momentum that took Smith down and the corner was the right decision. It was nothing short of a miracle for a ref who had already entertained both sides with some bizarre decisions over thrown-ins going to the wrong team.



However the ref then lost his way a few minutes later as City attacked again. Addis attacked on the right and tricked his way past a defender and found himself cutting back in away from the touchline and into the penalty box before a desperate lunge hacked him down. That could have been a penalty but with the ball running towards goal the ref waved play on as Eaton tried to latch onto the chance. What followed was an unseemly flap in the mud between Eaton and Bedford keeper James Robinson. The striker was unable to dig the ball out but the keeper appeared to hold his leg to prevent him getting to the ball as City fans wondered if they'd been transported a mile across the city to Kingsholm. Astonishingly the ref missed all of this as the keeper somewhat predictably pretended to be hurt in the tussle only to make an equally predictable miraculous recovery. If Eaton was hard done by there he should have done better minutes later as he was presented with the best chance of the game due to a long looping Burns pass that found him ten yards out and the goal at his mercy. He seemed unable to pull the trigger and the chance was gone as quickly as it had arrived. Moments later Eaton was subbed.

Although City were well on top during the second half it was not entirely one way traffic and as the match drew towards a close Bedford could have cruelly snatched away the points as Matt Bath was called upon to make another fine diving save. Our side seemed to be starting to tire in the final minutes and it was perhaps surprising that Adie Harris didn't get a chance to stretch his legs down the left. As it was we should have had another free kick as Addis was thumped by a flying elbow in the head. Despite being right by it the ref decided a head injury didn't merit stopping the game and he was fortunate the youngster wasn't more badly hurt as he left him on the floor. However in the dying moments City did get a free kick taken by Burns and could themselves have finally won the match as Cox jumped well to win the header which was clutched out of the air by Robinson as it headed for the top corner. City will probably be happy enough with a point but had it not been for some momentary sloppy defending and some wasteful finishing we could easily have pulled off another memorable win against one of the top sides. It does seem churlish to gripe though, as this was a hugely entertaining match between two good footballing sides and all of City's players could have been pleased with their efforts.

* City maintain 13th spot and the table remains close with the Tigers still just four points off the relegation places but also still a manageable eight points off the top five and the promotion play-off. At the top of the table Halesowen lost their grip with Aylesbury nicking a late winner and Merthyr winning at managerless Hitchin to go back into pole position. Chippenham and Chesham also both won, the latter demolishing Stamford 5-1 and increasing the Lincolnshire side's relegation worries. Our next opponents Team Bath can consider themselves a bit unlucky to remain at the bottom of the division having twice drawn level at Ciren only to lose out as Gareth Hopkins completed a hatrick, one of three scored in the division today.

The Southern Premier League's involvement in the FA Cup came to an end in today's 2nd Round matches, but both our remaining sides emerged with great credit and a few quid better off. Histon bowed out with a 3-1 defeat to Yeovil in front of a record crowd of 2,310 while Bath City fans enjoyed a day out at Peterborough but saw their side lose to two first half goals.

PS - Apologies again for the low quality of match pictures, the winter gloom is simply too much for the camera to cope with.
| | | | | | |
| --- | --- | --- | --- | --- | --- |
| Referee: | C Banks (Bicester) | League Position: | 13th (=) | Attendance: | 407 |
| Conditions: | overcast & dull | City Form: | DLDLWD | Match Report: | by t-towel |
Work commitments mean that we are keen to obtain other match reporters willing to provide details on some City matches. All text can be supplied by email, with no need to worry about web design or formatting. If you are interested please contact the T-Ender.