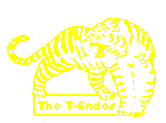 We welcome all contributions to the T-Ender. Please send any material for the site by
email to the address above.

Disclaimer
The views expressed on these pages are not those of Gloucester City A.F.C., its directors or officials, or of any other company mentioned. Neither do they represent the official views of the Gloucester City Supporters' Club or its committee.
While we make every effort to ensure information placed here is accurate we do not accept responsibility for errors that may occour. If you do find a mistake please let us know.

All pictures and material unless otherwise stated are the site's own and is
© www.t-ender.co.uk
All material may be reproduced with permission and appropriately attributed.
Saturday 30th April '05

Banbury United

at Spencer Stadium

Southern League Premier Division
(match 42)

vs

Gloucester City

Banbury United

0

Scorers: -

Gloucester City

0

Scorers: -
City Side:
Bath, C.Thompson, Avery, Griffiths, M.Thompson (Harris 63), Burns, Webb, Cox, Varnam (D.Addis 34), Reid (Smith 62), Wilkinson.
Subs not used: Knight.
City Bookings: none
T-Ender Man of the Match: Chris Burns: His 300th game marked with a virtuoso display of trademark inch perfect crossfield passing.
The season slipped away into memory with a fairly pleasent but inconsequential afternoon in the sunshine at Banbury. City will have been pleased to have controlled the game for long spells and mildly frustrated not to have managed to grab a goal to end the season in winning style, but this always looked like a match that mattered little to either team. A few flashes across goal and a couple of good saves by the portly Banbury keeper were the highlights for the travelling fans. With both teams looking tired this was hardly a classic, but at least another season passes with our club still holding grimly on at a respectable level of the pyramid.

I'd love to tell you all about the first half, but for the intrepid T-Ender reporting party the match began at 3:50 when we eventually rolled in courtesy of a very helpful AA patrolman (they get the business cos of the colours). Having survived a scarey moment on the M40 en route from our secret bunker hideout in south London we were somewhat alarmed to be quizzed at the gate on our allegiance, and having been told we were City fans the nice but slow man on guard duty told us we couldn't come in. That's always going to cause upset of course, but having survived a moment where the car accelerator turned to sponge and we flew behind a large truck we rather felt we deserved to at least see the second half.

Fortunately the Banbury chairman turned up just as we were about to chain ourselves to the turnstiles. His white hair glinted happily in the sunlight and fortunately he was mollified by the sight of a City Trust pin-badge and a crisp bank note, and we were in. Rather sadly it seems that a few typically over-stated soundings off from our wannabe CDB crew had been enough to cause all sorts of excitement at Banbury, hence the turn out from Thames Valley plod and a few over-dressed goons looking for some like-minded numbskulls to trade Burberry fashion tips with. As it was of course the CDB were nowhere to be seen, and the City fans are left looking over their shoulders at some gurning idiots who get upset when people laugh at them and their fat goalkeeper.

Smith comes on to liven things up.

Fortunately the presence of a few knuckle draggers didn't seem to have made too much difference to the travelling T-Enders who were mostly enjoying the 'sunshine' (liquid version) far too much to worry about anything else. Banbury also seemed to have all sorts of assorted strange things going on, involving the kind of wonderful entertainment that can only mean local commercial radio. Or acid.

It also seems that as a half of football it wasn't a bad one to miss, certainly no goals had gone in and by all accounts there hadn't been too much to get excited about. In fact, Banbury hadn't even mustered a shot on goal in the first half - and they didn't look in much danger of changing that in the second half either.


City's best chance of the first half had seen the noticeably rotund Simon Tricker defy gravity with a weight defying save from Jimmy Cox's header. How he managed to get his hand to it with so little time to react seemed to be beyond the travelling support. That goal would have given us a deserved lead as we had enjoyed more of the ball and put the home side under some pressure, despite seeing the side disrupted when Andy Varnam limped off to be replaced by Darryl Addis. His departure was a shame as the popular youngster is plainly being given every chance to show he can deliver at this level, but to date he's not managed to convince.

The second half was equally a tale of City pressure but without any real suggestion of a cutting edge. At times the cows on the grass behind the pitch provided as much entertainment as anything on it. Webb was all over the pitch, but as so often this season he impressed with stamina and effort rather than any tactical application. Addis too is a player who will be looking forward to the summer and the chance to begin again. He looks jaded and low at the moment, a shadow of the player who arrived in the aurumn. He still has a touch of the devil in him though, his turns and ability to shake off opponents will see him become a good player once he can also read the play of those around him a little better. One of those turns landed a Banbury player on his backside, but as too often seems to happen Addis was quickly surrounded and unable to find support from his team mates. Cox and Addis combined and could easily have been awarded a penalty after the latter was tripped, but the ref was sunning himself on the other side of the box and couldn't be bothered.

Marvin Thompson is one player who seems to actually be getting better as the season ended and his speed at the back was one of the main reasons that Banbury seemed so short of a cutting edge. Much of their play seems to rely on the pace and power of Howard Forinton up front, but Marvin stuck at him with dogged resilience and somehow managed to always get in his way. The one time Forinton escaped for any length of time he instantly tried to unleash a fierce drive from some way out, only to see Marvin once again race into the gap to block the shot. It's not pretty defending, but it does look like his confidence is returning and he looks a better player each week.

The other player to catch the eye was Burns himself, all be it partly because of the startling colour of red his face is guaranteed to be by the second half of any game. His performances are perhaps not as consistent as they used to be, and he certainly now has to pace himself with great care to get through the whole of a game. Watching this match, his 300th in City colours, it was hard not to be impressed by what a class act Burns still is. His professional career was built largely on pace and energy, and neither are qualities on which he can still rely. None the less though some of the passes he sprayed about the pitch this afternoon were as good as any to be seen anywhere. On occasions he threatened to break down the Banbury defence with just one well placed ball and a fully fit Cox firing at optimum speed would have made more of a couple of the passes. The boss also still makes a difference at the back, and while he is certainly vulnerable to pace he still provides an uncompromsing physical presence at the back and wins nearly everything in the air. Not bad for someone who has seemed perpetually on the verge of slipping gracefully into retirement and at points has been hardly able to walk because of sciatica. At some point his hardest task as manager will be finding his own replacement.






Top: Crazy headgear, crazy people as City go festive.
Left: Adie shows his pace is still there. Right: Not all the spectators are impressed.



Finally reason overcame pride and Lee Smith was beckoned from the bench to add some speed and power to the City attack. It seems as if today was intended as a dress rehearsal for next season when City are very likely to have to cope without their youthful player of the year to help unlock stubborn defences. Smith has reportedly rejected a new contract at Meadow Park and is rumoured to be considering offers from Forest Green, Cirencester and Weston. If Smith does go then on this showing he will be sorely missed. We look accomplished and solid enough without him in the side, but just seem to lack that extra bit of invention, pace or devilment to cause mistakes and uncertainty in an opposition defence. Whatever our problems for next season, leaving Smith on the bench in a fit of pique seemed a little beneath both the manager and a player who has given loyal service and constant effort since breaking into the side.

Smith's presence certainly injected a little extra zest into the game, and this was complimented by the introduction of Adie Harris on the other flank a few minutes later. We suddenly were able to pull Banbury out of position on both wings. Within minutes of coming on Smith had woken a few people up with a rasping shot that Tricker saved. A good run by Smith saw him create space for Addis who was unlucky to see a shooting opportunity closed down. A few moments later another good ball from Burns saw Harris scamper down the flank and cut the ball back in field for Chris Thompson who was unlucky to see his drive again well saved by Tricker. Thommo has had a steady season but hasn't found the net all season, an extraordinary statistic for a player of his class and ability. Smith should have earned City a penalty when he was clattered by an elbow when jumping for a corner, but again the ref seemed more interested in making sure the corner he'd already given was taken from the right place. Far be it for me to suggest some of these people are more interested in being pedantic than protecting players from injury....

Smith enjoyed a few more good runs and managed to produce one deep cross that only just eluded Webb at the far post, but by and large not even he could drag more life out of what was largely a pretty flat game that seemed more like an early start to pre-season knockabouts than the end of the league season. Addis managed to get on to a late chance and seemed to be through on the keeper, but by now he was limping heavily and faced with Trickers cosniderable bulk decided to beat a hasty retreat and surrendered the ball. Griff survived a late scare when he tried his best to break the deadlock with a flying header across the face of our goal, but we weren't even going to manage an own goal today. With neither side having anything much at stake and both sides looking anxious to put their feet up the ref finally decided he'd also had enough and blew his whistle.

And that's all folks. City's players sign off for the summer.


And so another season ends, and while it may not be as memorable as last season's promotion campaign the achievement of staying in the Southern League's Premier division is no less worth celebrating. At the start of the season we perhaps had reason to hope for more, but ever decreasing money and a startling loss of form made it look as if we were in serious danger of relegation. The revival of our fortunes and some startling results show real character and strength within the side. If the division was decided on cash available, we'd have been comfortably in the relegation places so to survive with a little to spare is some feat. With the players we are somehow retaining though we can manage better than just survivial - so next season could yet see further logic defying glory for our club.

* With all the relegation issues decided last weekend there was nothing to distract from a final day SLP title decider with the top two clubs going head to head in a winner takes all meeting of Histon and Chippenham at Bridge Road. As was to be expected the game turned out to be a nervous and hard fought affair, with the nerves unravelling all the way to the end as the game was decided in Histon's favour by Neil Kennedy's 80th minute goal.

That consigned Chippenham to the play-offs where a host of clubs still had hopes of also managing to keep their promotion hopes alive. One time leaders Halesowen were the surprise casualties, losing out after a Matt Warner header gave Team Bath a shock win at The Grove, a result that also pushed City down to 15th spot in the final divisional standings. Bedford were able to take advantage with a 2-1 win over Grantham, while Tiverton's late charge finally came off the rails as they were held 1-1 by King's Lynn. Merthyr Tydfil sneaked back into third place by beating relegated Solihull 2-0 at Penydarren Park, holding a slender one goal lead until the final minute when former Tigers' star Jon Holloway made the result safe. Hednesford have been the form team of the last few weeks and looked good for a play-off place as they faced Dunstable, another side already reflecting on relegation. However the Blues had little to fear and took a surprise lead on 51 minutes to send the Keys Park crowd into dark places. A red card reduced Dunstable to ten men and shortly afterwards Hednesford equalised, with ther dramatic winner coming with only a few minutes remaining through Rcihard Teesdale.
| | | | | | |
| --- | --- | --- | --- | --- | --- |
| Referee: | W.Barratt (Coventry) | League Position: | 15th (-1) | Attendance: | 718 |
| Conditions: | warm sunshine | City Form: | DWLLWD | Match Report: | by t-towel |
Work commitments mean that we are keen to obtain other match reporters willing to provide details on some City matches. All text can be supplied by email, with no need to worry about web design or formatting. If you are interested please contact the T-Ender.