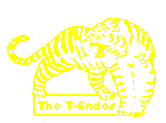 We welcome all contributions to the T-Ender. Please send any material for the site by
email to the address above.

Disclaimer
The views expressed on these pages are not those of Gloucester City A.F.C., its directors or officials, or of any other company mentioned. Neither do they represent the official views of the Gloucester City Supporters' Club or its committee.
While we make every effort to ensure information placed here is accurate we do not accept responsibility for errors that may occour. If you do find a mistake please let us know.

All pictures and material unless otherwise stated are the site's own and is
© www.t-ender.co.uk
All material may be reproduced with permission and appropriately attributed.
Saturday 30th October 2004

Gloucester City

at Meadow Park

Southern League Premier Division
(match 14)

vs

Banbury United

Gloucester City

4

Scorers: Wilkinson (9), Davis (39), Tomkins (43, 56)

Banbury United

1

Scorers: Forinton (80)
City Side:
Bath, L.Smith (Rimmer 82), M.Thompson, Griffiths, Tomkins, C.Thompson, Mustoe (Reid 74), Webb, Addis, Davis (Cox 62), Wilkinson.
Subs not used: Harris, Knight.
City Bookings: Tomkins (persistent fouling)
T-Ender Man of the Match: Neil Griffiths; an immaculate defensive display that silenced a dangerous opposition.
Poor Banbury ran into a City side that is suddenly in danger of finding some form and found themselves on the wrong side of a surprise hammering as the Tigers finally seemed to find a groove and went on to cruise to our first home win since August. The win came straight on the tail of our first away win of the campaign at Dunstable the previous weekend, and suddenly the gloomy talk of relegation that followed the departure of Andy Hoskins, last season's top scorer, does seem unduly pessemistic.

Burns didn't mess about too much with a winning formula, so Cox remained on the bench as he recovers from his bruised ribs, leaving Addis and Davis to continue what looks a very promising partnership up front. Neither have the strength or height of Hosky to win the high balls, but both bustle and dart around to good effect and can still wreak their own brand of havoc on opposition defences as the Puritans can now testify. The travelling fans took great pleasure in telling us we "were going down with King's Lynn". That'll be four (count 'em) goals to just one. Never one to gloat in the discomfort of visiting fans far be it for me to point out that the singing pretty much stopped after, ooh, ten minutes.



Top: Tomkins goes close but finds his range later
Bottom: Tricker makes a fine stop from Smith's shot


Before the Dunstable match City had gone more than six hours without a goal, so the City faithful were stunned when it took us a mere 9 minutes in to the match. It had been a scrappy start with a long range shot apiece to get the game going, so there was little sign of the incisive move that brought our opener. It was Wilkinson again who got the vital goal with a clever run from midfield. The goal stemmed from some quick thinking distribution by Matt Bath who found Marvin Thompson down the left. Tomkins then played a good cross field pass to Smith and the winger surged down the right wing before sending in an inch perfect cross into the six yard box. Wilko's run left the visitors standing and by the time he reached the cross the hard work was done and he had time to pick his spot.

Football is a match all about confidence and we now had it, and the same players that a few weeks ago looked unable to pass wind suddenly began playing like the world beaters we know they actually are. However the Banbury keeper was in fine form and he managed to frustrate the City attack until just before half-time. The T-End couldn't resist his rather 'full' build, but he seemed to relish the stick and certainly earnt some respect of the home fans. Mind you, when he made himself big our strikers can hardly have seen the goal at all. City did go close on several occasions though, and with sharper finishing we could have really buried them.

Another good move involving Webb and Smith could have seen Wilko find the net again but his shot was a bit weak and dragged wide, while Addis set up a good opportunity for Davis with another sharp turn. The new signing was in sparkling form and was full of clever tricks which terrified the defenders around him. One good pass set Marvin free down the left and he did well to cut the ball back into the penalty area where we were unfortunate the ref didn't see the handball from the stumbling defender.



Lee Smith was looking back to his best and another strong run down the right carried him past a left-back who looked like he would take some persuading to re-join the game for the second half. Smith's cross was again cut behind the flat defence and it looked like Wilko would chalk up a second with an almost identical strike. His shot was blocked by the determined keeper, but he could only push it into the path of Lee Davis who covered ground quickly to be in position to tap in his second in as many games.

City weren't yet done with the shell shocked Banbury side, and with supremacy now confirmed it was time to bring in the heavy bombers. Simon Tricker at times looked like the only visiting player opposing the Tigers onslaught and he conceded a corner when Addis showed some good skill to turn past his marker and send in a cross towards Smith. The youngster's strike was firm and drew another good save. The corner was taken by Mustoe, and it was one of his better corners that found the rumbling powerful run of Tomkins from the far post. His jump saw him clear the Banbury defence and an emphatic header planted the ball downward and soundly into the net. When it's done like that, you wonder why he doesn't get a goal a game as few defences could have stopped that charge towards goal. With the City running back in three goals to the good at the break it was the first time in a long time the T-End faithful could sup their swift half-time pints with any degree of comfort and satisfaction.


Left: Mustoe gets stuck in. Right:Wilko finds Tricker still in the way.
Bottom: Tomkins uses the persuasive headlock to ensure Banbury get no funny ideas.

The warmed City fans lined up eagerly for the second half expecting a further mauling of the hapless and rather weary looking Puritans. Banbury continued to creak but some how managed to hold out until just after the hour when deperate defending made the mistake of conceding a free kick. It looked perilously close to a corner after Smith had been tripped making for the by-line. Again Tomkins headed towards the opposition box and again Mustoe lined up to take the fierce inswinging back-post corner. Everyone knew what was coming, including the poor Banbury defenders. That didn't help them stop it though, the ball came over and Tomkins charged in and again leapt, headed the ball, and found the net.

Addis impressed the City fans on his home debut and after a slightly nervous start he seemed to grow into his role, his clever touches and turns were instrumental in the troubled collective nervous breakdown being suffered by the visitors. He richly deserved a goal and a few minutes later came so close when he got his head to a low Smith cross only to see his header brush the post. A few minutes later he was even more unlucky as a sliderule pass in from Mustoe gave him an opportunity to slip away from Mark Essex and find the space to stroll umolested into the penalty area. Addis had time to pick his spot and his sidefooted effort looked destined for the corner of the net, but Tricker was a keeper having plenty of practice and opportunity to get hie eye in. He managed another fine save to push the shot onto the post and off to safety.

At the other end the desperate Banbury side's frustration was typified as the cutely named Wayne Blossom resorted to trying to punch the ball into the City net. The ref obviously felt sorry for them and just laughed. With the game now looking beyond the point where even City could throw it away we began to make some changes. Cox got a chance to continue his return from the string of minor injuries which have hampered his return from knee ligament injuries. He certainly still looks a few yards off his pacey best, but at least Cox looked hungry for goals - the form of the Davis and Addis partnership must certainly have given him reason to fear for his place in the side. Much like a shark sensing blood in the water Cox was all over the pitch trying to hare onto some clever passes, but for all his work his teeth are still a little blunt to be ready to tear into even this already bruised Banbury flesh.

Marvin gets space to bring the ball out of defence.

The Puritans had given up all pretence of trying to win the midfield battle and having been convicingly outgunned in that department simply tried to by-pass it with some long ball stuff. It didn't really suit the dangerous Forinton though, and although he managed to hook his foot on to one long cross it was destined for the car park rather than the net.

City were still creating chances and Wilko could have added another as another Mustoe corner caused problems and was this time met by Griff. The header was stopped on the line and Wilko nearly managed to force in the loose ball before it was hacked clear. Webb then received a fantastic Addis pass and should have finished with more conviction but his shooting let him down. Cox was nipping here and there and a few moments later he too tested Tricker, but the big goalie again blocked the shot. Without his fine form between the posts the Oxfordshire side could have been humiliated as City vent the frustrations of the previous months on the reeling visitors.

Burns then removed Mustoe from the fray, perhaps partly to protect the skipper from unecessary exertion, but also to ensure he got the applause his efforts deserved. Some of the less thoughtful City fans have given Mustoe stick this season and on occasions his form has certainly been below its best. However this performance was that of a midfielder lynchpin at the top of his game, pulling the strings in attack and defusing and frustrating the opposition with every stride. Reid came on to take his place, and whilst the youngster doesn't yet have Mustoe's subtler skills his work rate matches that of the skipper. He has an uncompromising reputation from his youth team performances and hear he certainly put himself with a toughness that made adults wince. Reid is no mere enforcer though, he rarely loses the ball and seems to have a sharp footballing brain and is one to watch for the future.



Before the match City's rather fragile defence had been given little chance of keeping out an experienced striker like Banbury's Howard Forinton, but it said much for the strength of this revived City performance that Griffiths managed to keep the former Yeovil hitman until the game was beyond doubt. A clean sheet would have been another nice prize to take from this match, but the visiting fans deserved a goal to compensate for their wasted journey. Forinton found more space with Mustoe off the pitch and he was allowed room to run at the defence and was strong enough to hold off Chris Thompson and fire into the net.

It was too little too late for Banbury though, and Wilko still had time to see another effort bounce along the goal line before the final whistle. The victory was well deserved, both for players and fans. All we need to do now is keep ourselves together and hold on to some self-belief and the league table could soon look very different from the distressing picture it has presented over the last few months.

* Having been bottom of the table a fortnight ago we now find two wins has lifted us into a slightly healthier 16th spot, all be it still only two points from the relegation zone. We were helped by the results of some of the sides around us in the table. Stamford and Team Bath shared a 1-1 draw while Solihull Borough's concerns deepened with a 4-0 thumping by Bedford. King's Lynn came close to gaining a vital win against leaders Chippenham but the visitors sealed a 3-2 win to keep them top of the pile. Merthyr remain hot on their heels with an impressive 3-1 win over Chesham. The only team at the bottom to do well was Dunstable who bounced straight back from their home defeat against us last weekend. The topsy-turvey league was well illustrated as they handed a 5-1 local derby drubbing to Hitchin, with Grant Carney smashing a hatrick.


| | | | | | |
| --- | --- | --- | --- | --- | --- |
| Referee: | S Snart (Ch#*tenham) | League Position: | 16th (+2) | Attendance: | 415 |
| Conditions: | some sunshine | City Form: | DLDDWW | Match Report: | by t-towel |
Work commitments mean that we are keen to obtain other match reporters willing to provide details on some City matches. All text can be supplied by email, with no need to worry about web design or formatting. If you are interested please contact the T-Ender.