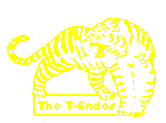 We welcome all contributions to the T-Ender. Please send any material for the site by
email to the address above.

Disclaimer
The views expressed on these pages are not those of Gloucester City A.F.C., its directors or officials, or of any other company mentioned. Neither do they represent the official views of the Gloucester City Supporters' Club or its committee.
While we make every effort to ensure information placed here is accurate we do not accept responsibility for errors that may occour. If you do find a mistake please let us know.

All pictures and material unless otherwise stated are the site's own and is
© www.t-ender.co.uk
All material may be reproduced with permission and appropriately attributed.
Saturday 12th February '05

Aylesbury United

at Buckingham Road

Southern League Premier Division
(match 29)

vs

Gloucester City

Aylesbury United

2

Scorers: Cook (64), French (75)

Gloucester City

0

Scorers: -
City Side:
Bath, L.Smith, C.Thompson, Griffiths, Tomkins (M.Thompson 87), Burns (Harris 71), Mustoe, Cox, D.Addis, Webb, Wilkinson (Reid, 78).
Subs not used: Knight.
City Bookings: Wilkinson (foul), Griffiths (persistent fouling), Mustoe (foul)
T-Ender Man of the Match: Neil Griffiths: made some excellent interventions in defence but even he lost his way as City folded.
For some reason a fortnight's break had persuaded everyone we had some cause to look forward to this return encounter with Aylesbury with a sense of optimism. For an hour there were some reasons to think there was hope. Gritty defending and some moments of magic from Addis lit up an otherwise uninspiring but competent City display. However, just when it seemed a point or more might be within our grasp some careless passing and another lapse in concentration saw us a goal down. And from there it was all too much for a side that no longer looks like it believes. The relegation quicksand is beginning to suck at our feet and the spark to reignite our season seems beyond us.

It didn't seem as if the afternoon had to be this hopeless, but then it never does by the time kick-off comes back round again. Following City seems to require some constant suspension of reality and suppression of the memories of our last dismal collapse. The bliss of a fortnight off had allowed even more of the cold grip of realism to be fought from the mind to such an extent that we almost dared to dream of a second away victory at Aylesbury, despite the Ducks having done for us 3-0 only a few weeks ago. Excited whispers in the bar spoke of a home side weakened by suspension and struggling for form. This forgets of course that we are exactly the side you want to be visiting when you're looking for a morale boosting home result. By the time our fearful favourites trooped out onto the pitch the welcome sight of Lyndon Tomkins back in the side lifted City to such an extent that it seemed our triumph would just be a formality. And then dear reader, the match started...

The match hardly set of at an electric pace with the players looking as if they'd rather be in the stands, away from the wind and the rain which sporadically drenched the pitch. The people in the stands wished they were in the bar. You can only guess that those in the bar wished they were at home. It was that kind of afternoon. Aylesbury tried a few forays forward, doubtless looking forward to the kind of red carpet welcome we rolled out for them at Meadow Park. This time things were certainly different, and we smashed back their advances with some convincing blocks early on. Webb then got a rude awakening as he tried to launch a counter attack down the left. The ball had long been punted hopefully towards Cox, but that didn't stop Aylesbury captain Andrew Hodges from cracking into the youngster's standing leg and sending him flying. Some how the referee Stephen Phipps didn't feel it deserved a booking, presumably under the law of the game stating no-one can be booked for anything short of murder in the first five minutes of a match. This is written in a secret code at the bottom of the rule book and can only be read by those with special powers, like Mr Phipps.





Top: Webb gets a warm welcome from the Ducks
Bottom: Addis puts Cox clear on goal.


At least the foul gave us an excuse to jump up and down a little, while the free kick helped us gain some territory at the right end of the pitch. We were struggling to create all that much, but a succession of free kicks and corners made the Ducks a little uncomfortable. Burnsie's new midfield role meant he could take more of the dead ball kicks and a swirling corner almost got a vital touch from Griff, with the cleared ball dropping to Lee Smith who volleyed just wide from the edge of the area.

At the other end Aylesbury must have been astonished to find we were fielding a defence. Alongside the physical presence of Lyndon Tomkins everyone seemed more confident. His sheer bulk proves a more formidable obstacle for forwards who try to take liberties and he pursues his prey deep into the midfield as they try to escape his clutches. Griff benefited hugely from his return and this was one of his best games for some time, in the first twenty minutes he made a string of good blocks and strong headers. Matt Bath would have been glad not to have too much to do in the difficult conditions but he did well to punch clear one troublesome cross that was headed towards the head of the Ducks centre forward.

The match must have hit a pretty slow phase as I could tell you more about the weather over the next few minutes, possibly because the mixture of pouring rain and bright sunshine was more exciting than the turgid midfield head tennis on the pitch. Lee Smith had obviously had enough because he suddenly slid in on one of the Aylesbury players and ignited a fearsome blood curdling bout of muttering and stern glances between the two sides. We struggled to get the ball clear for a while but a dangerous attack came to an abrupt halt when Griff got back to smartly nick the ball off an opponent's foot, a top rate tackle inside the penalty area.

At the other end we were able to further ponder the enigma that is Jimmy Cox. What can you make of a forward who shrugs his shoulder as a perfectly serviceable pass into his feet rolls beyond his languid trailing leg, and then chases down a speeding ball that is flying towards the touchline and slides 20 yards into the hoardings in a desperate ill-fated to salvage something from nothing? It is not as simple as to say Coxy doesn't try and doesn't make an effort, he looks far more interested than he did in the Autumn, but he is still not firing on all cylinders. He went close to giving City the lead as Lee Smith skipped free and sent over a cross that Cox met at the far post only to see the Aylesbury keeper instantly on to him and able to block. Burns sent over another couple of searching corners, the problem being that you wish he could also get on the end of them. Wilko almost got his head on one and then a second effort ended in a near post scramble.

Aylesbury were having slightly the better of the midfield battle, but City were doing a good job of stopping Aylesbury from playing - ably assisted by a referee who wasn't happy if people didn't notice him every few minutes. Things got a little close for comfort late in the first half though. Smith lost possession in midfield after we'd taken a corner and suddenly we were facing a swift counter attack with initially just Chris Thompson on hand. He was joined by a charging Tom Webb whose tackle at least delayed proceedings before two excellent bits of defending by Thommo finally smothered out the threat.

We then enjoyed our best few minutes of the match as the first half drew to a close. Addis produced a sublime moment of skill as he looked to hold on to possession whilst being crowded out by two defenders on the touchline. Suddenly he rolled the ball under his foot and with a quick shimmy and turn he'd changed direction and was gone, leaving the two defenders trailing as he headed off towards the centre of the pitch. Unfortunately, as so often in this game, there were no options and his eventual shot seemed more in hope than the belief he would find the net. Addis must wonder what he has to do to get his side winning again, it's not for any lack of effort on his part. A few minutes later he showed his strength to get on the end of a long punt from Matty Bath that had been flicked on by Wilko. Addis held off a defender and as he fell managed to prod the ball in field towards Jimmy Cox. A year ago he'd have taken it in his stride and chipped it over the keeper, but he snatched at the chance and drove it wide. With City creating so little in front of goal we can't afford for chances like that to be wasted.





Left: I can't believe how stupid Daryl Addis just made me look....
Middle: City try aerial bombardment
Right: A rare second half attack

Half time was spent in the long queue for food, presumably the caterers were caught out by the unusual surge in demand. The waiting lost souls were further entertained by the service from a bandana clad teenager whose attention to detail confused his customers. "Do you want you hot dog with your chips or separate?" No wonder for the poor kid clutching his coins was confused, was he really expected to come back for it later? Could a massive order of two cheeseburgers and two teas be produced in the mere ten minutes remaining. The tension was captivating, but sadly the players came back out and we had to return to the match.

The second half was not a patch on the first, and you might remember that was hardly a footballing rhapsody. There was little clear action to mention, and nothing of note at all happening in front of the Aylesbury goal. we were showing all the signs of a team low in confidence and lacking in real belief. Our players seem reluctant to offer themselves for the ball, meaning that even when in possession we have no options for them an on the ball. Burns and Mustoe both looked poor by their own standards today, but they're not helped by the lack of movement off the ball when they're looking to pass. Addis also gets caught in possession simply because there's a limit to how long you can hold off two defenders while screaming for help.

While not looking like scoring we were at least giving a passing impression of a side with a defence. Wilko made a few good blocks and Griff was superb covering behind Tomkins and picking up anything that ran loose. Given our record and the lack of meaningful action at either end you'd have been forgiven for writing this off as a goalless draw and heading off early. The footballing fates had other ideas for us though. We made a rare foray deep into Ducks' territory and looked to get forward in numbers. The ball went out for a quickly taken throw which Burns couldn't collect as he lost control. Within moments Aylesbury swept the ball wide down the right and we were caught with plenty of players suddenly out of position. Chris Thompson and Lee Smith seemed unsure of who was going to get the man on the ball and when Thommo was easily nudged aside there was no-one else to cover. Matt Bath was stranded and Garry Cook had plenty of time to pick his spot.


Addis prepares to dazzle again.

That seemed to knock the stuffing out of us a bit and we didn't seem to really believe we could now get anything from the game. Things did open up a little on the pitch and we tried to step things up a gear, but we looked as if we were trying to get more out of a motor when the pedal was already pressed to the metal. Wilko went into the book for a challenge that carried him through an Aylesbury substitute, but whilst the booking was deserved it seemed inconsistent with the lenient treatment the ref had produced earlier.

Smith managed a few half runs down the right, but in common with many of our players he still looks a little out of sorts. Every run seems to end quickly and all too often he insists on cutting in rather than getting wide and trying to produce the crosses that have proved so profitable for us in the past. As the opening failed to come we threw on something of a surprise sub as Adie Harris trotted on for his first game since October. The diminutive left winger has been sorely missed this season, but hopefully this is a sign that his persistent back problems have eased. Burns made way and is not happy at the way things are going, hurling his shirt into the dug-out in frustration. You can imagine the post-match team talks are not too pleasant at the moment.

Adie quickly showed the balance an attacking threat down the left brings as his first touch saw him cut inside one defender and then beat another. He then produced a low cross along the six-yard box, by my reckoning only our second of the match from open play. It was a dangerous ball and Wilko seemed set to connect it but seemed to get his studs caught and the chance was missed.

Within moments that miss became even more vital as we conceded a bizarre second. With the ball pinging around midfield the play seemed to stop as both sides either heard a whistle or thought the player had hand balled. As it happened the ref had thought neither and the first player to react was Aylesbury debutant Daniel French. This was especially unfortunate as not only did he have the ball he also had a 35 yard clean run on Matt Bath and our goal. He kept his head and crashed a shot off the bar and into the net for a strange but decisive goal.

That was the result decided and we really went to pieces for ten minutes as all our previous good defensive work was undone in a circus of errors that somehow Aylesbury contrived to not convert into further goals. Thommo gave away the ball only to recover and manage to win it back while Mustoe sliced a clearance straight to an opponent who was so surprised he in turn lashed it straight at the corner flag. Matt Bath made a smart save from a low drive after Webb was caught in possession. Griff then went into the book as he tripped up one player too many as we tried to regain some sort of composure.

In the last few minutes we did come close to grabbing a consolation goal. We showed some very welcome tactical imagination to throw Lee Smith further up the field and switch him to the left wing. He immediately had an impact as Adie Harris fed him a low ball and he slipped inside one defender. Both Addis and Wilko were waiting inside the area for the cut back but from a narrow angle the youngster inexplicably tried a shot which went tamely into the side netting. A few moments later Adie Harris went close to crowning his return with a goal as some clever passing by Mustoe sent Addis away down the right and his deep cross found Adie beyond the far post. He had space to turn and close in on goal before rifling in a low shot that forced their keeper to make his first real save of the match.

That was it apart from some frustrated fronting up by Jimmy Cox that got no where and a flying tackle by Mustoe that got him a yellow card. The challenge saw him take the ball before the man and he clearly led with one foot so the booking was harsh, but he hardly needed to be making that kind of tackle deep in Aylesbury territory in the final moments of a game where we trail by two goals. The bookings seem to raise the spectre of Griffiths, Wilkinson and Mustoe all missing the same match through suspension, not a prospect our fragile squad can readily handle.

Little then for City fans to smile about. Fans will anxiously wait in the hope that Adie Harris' rehabilitation continues as even as he approaches his 41st birthday he still adds an extra attacking threat to our side which could yet be a crucial difference in the tense weeks ahead. We did defend a lot better today and look harder to beat with Lyndon Tomkins in the side, not only is he a formidable obstacle in his own right but Griff and others look more comfortable alongside him. However, we look a side down on their luck and looking for a lucky break. Where it's going to come from is anyone's guess. This is where managers and coaches show their worth, time for a smart bit of headology from Burnsie, or we could be playing Slimbridge next season.

* City's league position remains unchanged at 16th, but our situation is slowly deteriorating weekend by weekend. Stamford looked set to cause an upset after going ahead against leaders Chippenham, but the Wiltshire side stayed top of the pile after coming back to win 2-1 thanks to second half goals from Dave Gilroy and Ben Kirk. Halesowen went back up to third place with a convincing 4-0 thumping of Solihull who are still in deep relegation trouble. However the shock of the day came at Dunstable Town who lifted themselves off the bottom with a 4-1 derby victory over Hitchin. Banbury remain just below City after losing 3-2 at home to Grantham, despite a brace from John McKay they lost out to a late winner. Hednesford Town ensured that Merthyr's slump continued with a 2-0 win at Penydarren Park courtesy of late goals from Leon McSweeney and Lee Barrow from the penalty spot. Naturally the Pitmen are running into a bit of form... their next opponents are us.
| | | | | | |
| --- | --- | --- | --- | --- | --- |
| Referee: | S.Phipps (Oxford) | League Position: | 16th (=) | Attendance: | 369 |
| Conditions: | breezy, heavy showers & sunshine | City Form: | LDLLDW | Match Report: | by t-towel |
Work commitments mean that we are keen to obtain other match reporters willing to provide details on some City matches. All text can be supplied by email, with no need to worry about web design or formatting. If you are interested please contact the T-Ender.