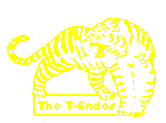 We welcome all contributions to the T-Ender. Please send any material for the site by
email to the address above.

Disclaimer
The views expressed on these pages are not those of Gloucester City A.F.C., its directors or officials, or of any other company mentioned. Neither do they represent the official views of the Gloucester City Supporters' Club or its committee.
While we make every effort to ensure information placed here is accurate we do not accept responsibility for errors that may occour. If you do find a mistake please let us know.

All pictures and material unless otherwise stated are the site's own and is
© www.t-ender.co.uk
All material may be reproduced with permission and appropriately attributed.
Saturday 22nd January 2005

Gloucester City

at Meadow Park

Southern League Premier Division
(match 27)

vs

Referee United

Gloucester City

0

Scorers:

Referee United

3

Scorers: P.Edgeworth (45,55), L.Gutzmore (50)
City Side:
Bath, L.Smith, M.Thompson (Noakes 51), Griffiths, Burns (Tomkins 82), C.Thompson, Knight (Reid 68), Cox, Addis, Webb, Wilkinson.
Subs not used: none.
City Bookings: Griffiths (standing near Aylesbury player?), Burns (foul)
T-Ender Man of the Match: Lee Smith; constantly available down the right and offered some of our better attacking moments.
City got on the wrong end of a thumping this afternoon as they faced one of the few sides we've seen in this division who genuinely looked as if they had a little bit more than us in every department. However our side can take some comfort from the way they kept fighting and there is little doubt that the final scoreline flattered the Ducks, and despite the extra class they certainly showed the final result was also strongly influenced by some poor refereeing. On a cold, damp, miserable afternoon at Meadow Park little went our way, from the official's decisions to the way every loose ball and ricochet seemed to fall to a green shirt.

City can hardly have gone into this game full of confidence and any reason for optimism was punctured by the sight of a team sheet missing skipper Neil Mustoe from the heart of the City midfield for the first league game this season, the victim of a hamstring strain. With games ticking by and the league table showing a decreasing gap between us and the relegation places the tension is beginning to ratchet up, and Aylesbury were always going to be tough opponents. A recent victory over our Conference neighbours Forest Green shows that the Ducks are probably one of the best sides in the division. They didn't disappoint and from the first opening exchanges they looked a strong, confident side with a well disciplined shape to them. In the first minute we had our first scare as they zipped through our defence and we were only reprieved as a wild loosener from their striker flew into the T-End.

It would be wrong to suggest that Aylesbury had everything their own way in this match and our defeat was certainly not due to any timid effort from our players. Without Mustoe in midfield Keith Knight had the responsibility of keeping us moving forward and he produced an imperious cross field pass to send Smith away on the right. His low cross was met by Tom Webb but sadly he too had difficulty finding his range and flailed wildly at the ball sending his shot flying high and wide into the car park. Wilkinson was also much in evidence in the early part of the game and he was harrying Aylesbury with enthusiasm, but even at this stage you simply felt they were moving with a sense of purpose whilst we were chasing around like excited puppies hunting their ball. We had another let off down the left where Tom Webb was turned and as he slipped so did Marvin Thompson, leaving Paul Edgeworth to send a low ball across the face of our goal that somehow went begging.


Cox looks for a way past Aylesbury's Liam Folds

City were far from out of it and whilst Aylesbury looked solid we do still have attacking players that can unhinge even the best defence. It is just a shame that at the moment we look a little low on the kind of confidence players need to let fly. Jimmy Cox is still not back to his blistering best but he is definitely back to being a genuine threat. He was at the heart of our best moves early in the first half as he twice shook off Liam Folds who seemed to have the unenviable task of marking him. Cox's first run ended with a disappointing low cross but the second saw him check back and Knight's deeper cross almost found Smith and Addis.

We then had our best chance of the first half when Addis exchanged a clever one-two with Wilko and the midfielder burst through into the penalty area to crash a fierce volley straight at the keeper. The rebound almost fell to Wilkinson and only smart reflexes by Jack Rashid in the Ducks' goal managed to smuggle the ball away. A few minutes later Wilko again went close, a smart turn by Addis was followed by a steepling cross to the far post. Our top scorer again met the ball on the volley and when it was blocked by a defender Webb almost managed to head in from close range.

Aylesbury looked rattled and the game heated up when Leon Gutzmore flew in on Lee Smith on the half way line, his scything challenge earning him a yellow card. In the way that referees do John Holbrook decided that having booked a player from one side he needed to book one of ours and Griff promptly had his name taken for a challenge on Gutzmore. You could see the ref thinking this was a case of retaliation for the player's wild tackle, but that neatly ignored that Griff took the ball and that both teams continued playing until the ref intervened. Cue bemusement all round.


The break in play didn't favour us at all and when the game settled back down we found ourselves weathering a string of Aylesbury attacks. We were actually defending well, with Chris Thompson making a couple of fine tackles and Griff mopping up well behind him. Despite the well timed challenges we could not clear our lines and you could feel the timbers creaking beneath our feet. Without creating any clear chances Aylesbury looked ominous, never more so than when Tom Webb was forced to twist on the goal line to clear a dangerous looking ball with both Gutzmore and Drew Roberts bearing down on him. Aylesbury were encouraged and a couple of minutes later Matt Bath got his first chance to get muddy as he dealt with a skimming low shot from 25 yards. We then had the unedifying sight of both Lee Smith and Marvin Thompson being left behind as Dean Cracknell got to the by-line and only the canny old head of Chris Burns blocked the danger. If the City fans weren't getting the message even those asleep at the back were woken as another shot from distance smacked against our post with Matt Bath floundering.

At least that sparked a bit more life from City as we suddenly counter attacked with a bit more determination. Again it was the pace of Jimmy Cox that provided an outlet. He collected a short pass from Knight and put his head down in typical fashion, speeding promisingly past two defenders and cutting inside before delivering a shot that screwed just wide of the near post. Aylesbury had been warned but we were now getting pushed further up the pitch and that kind of break out looked our best chance. Keith Knight was as good as ever spraying the ball around but was struggling to help Wilko close down players in midfield and often was left stranded if he'd moved to far up the pitch. Burns changed things around to try and shore up the problem; with the boss dropping back into defence, Marvin going on to the left and Webb freed up to take a more central role in midfield. This added a bit more industry to the middle of the pitch but Aylesbury were simply stronger and knew their game plan perfectly. It looked as if the visitors must take the lead when our defence was suddenly sliced apart by a slide rule through ball, but Gutzmore wasted the chance.

We came back into the game for a few brief minutes when Lee Smith escaped down the right and having found his progress blocked on the wing and cut inside to Addis. His turn was unceremoniously halted on the edge of the area and Knight went close with a beautifully flighted free kick that went just wide. A few minutes later the match almost threatened to ignite as Knight and Smith were again both involved in move that sent Wilkinson scampering on to a through ball into the Aylesbury area. Rashid was quickly out to meet the threat and Wilkinson threw himself into the air. It looked a dive and Wilko was lucky to escape without a booking, but the Ducks' keeper was fortunate the ref chose to ignore his reaction. Players know they risk a red card if they raise their hands and any wrong Wilko did with the initial dive was redeemed, as had he fallen to the floor when pushed in the face by the keeper then Rashid would surely have been facing an early exit.



City hit high and hopeful

We had a further scare as another fine Aylesbury through ball slipped between Burns and Thommo to leave Drew Roberts through on goal. This time it was Matt Bath who was out smartly to meet the danger and his save at the feet of the striker was as good as any save he's ever made. We had our own opportunity immediately afterwards as another Cox effort was deflected just wide of the post with the keeper struggling, but with the half running out we then suffered another period of extensive pressure. Again we couldn't get our lines clear and with the defence looking more and more ragged one final deep diagonal ball to the left found us finally hopelessly exposed. The ball looped over Wilkinson to find Paul Edgeworth unmarked and with time to steady himself he made no mistake in slotting the ball past Bath.

That goal on the stroke of half-time was a real body blow but we recovered well and looked to have opened the second period brightly. Again our best moments involved Lee Smith who at least carried the game to Aylesbury and retained the ability to beat a player and create some space. We went close when a Cox run was closed down but Smith picked up the baton and flicked over a near post cross that forced the Ducks to scramble the ball away for a corner. From that corner Knight sent over a fantastic whipped cross that was only headed out as far as 12 yards where the almighty flurry took place. In the midst of this came a blatant handball from a Griffiths' header that should have earnt us a penalty, but with the ref swallowing his whistle Addis made the schoolboy mistake of not playing on. With the ball sat in front of him and the goal clear ahead the player wheeled around to claim the penalty, and the opportunity was gone.

City were pressing for an equaliser and for a short spell Aylesbury looked troubled as they saw us attacking at speed and in numbers. The ref wasn't watching the same game as anyone else and he kept his hands firmly clamped behind his back as Aylesbury broke up attacks with a string of fouls. The worst came when Jaggard cynically tripped Wilko as he broke clear from the midfield, and despite the blatant deliberate foul from behind Holbrook failed to find his yellow card. This effectively gave the Ducks a chance to put the boot in and weather the storm. No wonder the visiting fans seemed to spend most of the half signing what, from a distance, sounded like "referee, referee, referee". He was certainly their most crucial player.

City kept up the pressure and for a short while not only did it seem as if a goal would come, but also that we deserved to be level. Cox was unlucky to see his rasping effort through a crowd of players come back of Addis' heel, but the match was about to take a crucial turn that summed up the whole game. We came painfully close to taking the lead when another well flighted Knight pass sent Cox away and his cross was almost turned in at the near post by a stretching Marvin Thompson. However the keeper's kick immediately exposed our defence and Chris Thompson was brushed off the ball with alarming ease. A purist may point out that he was probably pushed and it was really a foul, but your centre-backs shouldn't be pushed around so easily. Burns was simply not quick enough to get close to the flying Gutzmore who put in the crucial second.



Top: Cox has another go but without any luck.

City immediately threw on youngster Michael Noakes on the left wing and it is frightening how much a genuine left footed player with pace adds to the balance of the side. He may only be sixteen, but on today's showing Noakes has a strong case for a more regular part in the City first team. In fairness to our side they didn't let the hammer blow of that second goal deflate them and we almost pulled a goal straight back as Smith whipped in a lethal looking low cross to the near post. Cox had time to bring it down but Rashid did well to rush out and leave him little space to get his shot away.

Noakes made his presence felt and you could see the right back suddenly drop back a few yards to give himself more room to cope with the youngster's runs. He showed a good touch to bring down Knight's pass from midfield and find Webb in support outside him. His deep cross found Wilkinson and his snatched shot flew narrowly wide.

The game then slipped away from us in another instant. At one moment we were almost back into the game as Smith sent in another cross that found Cox at the far post. The striker needed an instant first time finish to take advantage from close range but he tried to take an extra touch and the defenders closed in and cleared. Moments later we were three down, having again been ripped apart on the counter attack with Edgeworth claiming his second of the game. There was a Mustoe shaped hole in our midfield, and anyone who still doesn't appreciate what he brings to our side after this display in his absence needs a good slap.

The match was effectively over as a competition and while both sides continued to exert some pressure neither seemed too keen to commit much forward. Burns almost sent Addis away as the Coleford forward spun adroitly to get clear of the defender but his sharp shot was comfortably wide. Burns himself was then unlucky not to find the net with a far post header from a corner, but to be honest by this stage in the game we were looking for a consolation goal.



The only real excitement came with the occasional moments of City spirit as the slick surface meant a series of wild challenges from both sides. Rashid almost collected a broken rib as Wilko tried to get on the end of a low cross to the far post and clattered himself and the keeper onto the frame of the goal. That was tame compared with the challenge on the newly arrived Jamie Reid which finally got the vicious Jaggard a well deserved yellow card. There seems to be something about young Reid which entices some sort of blood lust in the opposition, in several of his brief substitute appearances he's collected late challenges. Tom Webb is a player who can find an edge to his game at times, and a minute later he flew in on Jaggard and cracked him in the shin. It was a tackle with intent. That was retaliation for a bad challenge Mr Referee. This time, faced by a real crime to punish, he naturally kept his card in his pocket and booked Burns for a nothing trip a few minutes later. You couldn't make it up. There was just time for Matt Bath to produce another fine save to keep the score from reaching embarrassing proportions, his flying tip over at full stretch drew applause from all around the pitch and the ground. When the final whistle went, it was a relief.

This was a pretty sobering result with reasons to be cheerful kept to a bare minimum for Tigers' fans. In fairness Aylesbury are one of the best sides we've faced this season and to my mind only Histon have shown such good shape and strength throughout the side. With better luck and more even refereeing we could have snatched something from the game, but all that shouldn't paper over the very real problems we face. The Ducks had more class right across the pitch today, and with only a couple of our key players missing we looked lost - a real demonstration of how painfully stretched our squad now is. With Tomkins on the bench and no Mustoe in the side we are far too easy to bully off the ball, and when we do stand up for ourselves it tends to be in temper and to the detriment of our discipline. The shape of the side probably no longer best reflects the players Burns has at his disposal - but we have few obvious options as we lack genuine full-backs to make 4-4-2 a solid defensive shape and our lack of resources on the left-wing gives the team a lop sided look going forward. The side is also still in the habit of playing the type of balls that Andy Hoskins strength made viable. Without him in the side the forwards struggle to hold the ball up while help arrives, and too often we surrender possession. Burns certainly must know he has a few problems to solve, but without the wages to get in a couple more players it is difficult to see how he can unless his current players dig a little deeper.

* This defeat leaves us back in 16th spot in the league table and looking anxiously over our shoulder to the 19th spot that marks the start of the relegation places. It was a good day for some of the sides chasing us, most of who have games in hand on us that could leave our own position extremely vulnerable. Make no mistake, we are now in a genuine relegation scrap and need to up our game to meet the challenge. Solihull Borough grabbed a vital 1-0 win at Bath City with a Robert Taylor goal while an early Rob Duffy strike for Stamford was enough to see off Rugby United and move the Lincolnshire side off the bottom. At the top of the table Bedford's 4-1 win over Team Bath was a tenth successive home win and takes them second, with Histon and Cirencester battling out a hard fought 2-2 draw.

| | | | | | |
| --- | --- | --- | --- | --- | --- |
| Referee: | J Holbrook (Kidderminster) | League Position: | 16th (-1) | Attendance: | 411 |
| Conditions: | heavy rain and sleet | City Form: | LLDWDL | Match Report: | by t-towel |
Work commitments mean that we are keen to obtain other match reporters willing to provide details on some City matches. All text can be supplied by email, with no need to worry about web design or formatting. If you are interested please contact the T-Ender.