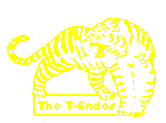 We welcome all contributions to the T-Ender. Please send any material for the site by
email to the address above.

Disclaimer
The views expressed on these pages are not those of Gloucester City A.F.C., its directors or officials, or of any other company mentioned. Neither do they represent the official views of the Gloucester City Supporters' Club or its committee.
While we make every effort to ensure information placed here is accurate we do not accept responsibility for errors that may occour. If you do find a mistake please let us know.

All pictures and material unless otherwise stated are the site's own and is
© www.t-ender.co.uk
All material may be reproduced with permission and appropriately attributed.
Jason Eaton

Position:

forward

DoB:
Age:
Birthplace:
29th January 1969
35
Bristol
City Career
Transfer Details:

Joined City for a second spell on loan from Merthyr Tydfil on 17th November 2004.

City Debut:

v Dorchester Town (h) SLPD, 17th November 1990, Drew 1-1.

City Stats

1990/1: 35 Apps, 18 Goals
1991/2: 45(1) Apps, 18 Goals
1992/3: 13 Apps, 6 Goals
2004/5: 4(1) Apps, 1 Goal
Totals: 97(2) Apps, 43 Goals

Career Club History: Bristol Rovers (2(2)), Clevedon Town, Trowbridge Town, Bristol City (14(7)-1), Gloucester City, Ch@#tenham Town (164-76), Yeovil Town, Newport County, Forest Green Rovers, Merthyr Tydfil (loan), Basingstoke Town, Bath City, Merthyr Tydfil, Brislington (loan), Gloucester City (loan), Brislington, Mangotsfield United, Clevedon Town
Honours: SL Premier R-Up 90/1, Ch#*tenham Town PoY 95/6, FA Trophy 97/8, Conference Championship 98/9

Pen Pic:

Eaton returned to Meadow Park on a month's loan from SL Premier rivals Merthyr Tydfil in November 2004, more than 12 years after his acrimonious departure to bitter local rivals Ch#*tenham Town where he went on to enjoy a hugely succesful career and scored the winning goal in their 1998 FA Trophy victory. Eaton's post-Ch#*tenham career has taken him to many clubs in the south-west and south Wales as he has struggled to find regular form. Now in the veteran category he was released last season by Bath City and having found the net just once in 12 games in 2004/5 at new club Merthyr Tydfil he found some return to form and fitness with four goals in as many games on loan with Screwfix Western League outfit Brislington.

Since that time Eaton has continued to be a consistent goalscorer and City hoped he could find the net to boost a forward line struggling to get goals. His reputation for hard work and sharp movement stays with him, although the pace and touch that used to make him such a lethal finisher are now beginning to fade and in truth he offered little new. His return to the club was brokered by the Tigers' assistant manager Keith Knight, a former team mate of Eaton's from both his first spell at City and his time at Whaddon Road. It was generally believed his wage was being paid by cuts in their own money taken by Knight and manager Chris Burns. They must have been taken aback by the hostility still felt by many City fans to Eaton and his return of one goal in four uninspiring displays were not enough to justify the bad feeling his presence caused. His loan was not extended and Eaton dropped down two divisions to join Brislington permanantly.

Eaton began his career at Bristol Rovers as a highly rated and pacey youngster, but having narrowley failed to make the grade with the Gas he was plucked from a brief spell in non-league football to get a second chance at making it as a professional and becoming one of relatively few players to wear the colours of both Bristol clubs. He fared better at Ashton Gate and scored the winner for Bristol City against Notts County in the old Division 3.

Despite making several appearances in the side Eaton found his progress to a regular first team spot blocked and in November 1990 Gloucester City boss Brian Godfrey persuaded him to head back into the non-league game. Bristol City did not want to lose a promising player they still felt had first team potential and it took a then club record fee of £10,000 to win the young Eaton's signature. He quickly settled at Gloucester and his pace was a vital weapon as City went within minutes of a place in the Conference with heartbreak at Bromsgrove Rovers in May 1991. Eaton played in what is arguably the finest side to grace Meadow Park and few will forget the disappointment of the last home game of that season when Eaton scored once and went close on countless occasions as we drew 2-2 with VS Rugby. The departure of chairman Les Alderman heralded the now familiar City financial turmoil and the break-up of much of that side, but Eaton remained and carried on socring vital goals and managed 42 in 93 games in just under two years with the Tigers.

Having rejected several offers to move City fans were stunned when Eaton announced he was off to the club's bitter rivals Ch#*tenham Town, partly to re-join Lyndsey Parsons who had coached him earlier in his career. City at least made good profit from his deparure with a £20,000 fee coming in as some compensation. No move between the two clubs is going to be free of some bad feeling, but this was stoked up by some ill judged comments in the local press which made Eaton an instant hate figure for many at Meadow Park. His frequent goals for Ch#*tenham in subsequent derby games did little to pacify the T-End, especially as the player responded with some stupid hand gestures and insults - something he sadly continued right up to his time at Bath City.

Whatever his actions Eaton's part in the phenomenel success of Ch#*tenham Town cannot be denied as his goals helped the club to two promotions and FA Trophy glory. He struck up a good understanding with another former Tiger as he and Dale Watkins helped the club to promotion from the Southern league and then into the Football League in 1999. That success ironically led to Eaton parting company with Ch#*tenham as he did not wish to leave his job and turn professional, the same decision also leading to his departure from his next club Yeovil Town.
| | |
| --- | --- |
| | |
| | Sponsor your favourite current City player for £50: Contact Trevor King. |