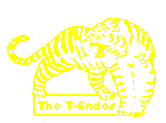 We welcome all contributions to the T-Ender. Please send any material for the site by
email to the address above.

Disclaimer
The views expressed on these pages are not those of Gloucester City A.F.C., its directors or officials, or of any other company mentioned. Neither do they represent the official views of the Gloucester City Supporters' Club or its committee.
While we make every effort to ensure information placed here is accurate we do not accept responsibility for errors that may occour. If you do find a mistake please let us know.

All pictures and material unless otherwise stated are the site's own and is
© www.t-ender.co.uk
All material may be reproduced with permission and appropriately attributed.
Downloads & Screensavers
Customise your computer to show your Tiger colours -
be the envy of your family, friends and workmates with the latest downloads from the T-Ender.

City Screensaver Pictures

After huge unprecedented demand (well, one email) I've finally produced the definitive Gloucester City screensaver to brighten up your monitor's idle moments. The pics are all from 2002 and lovingly cobbled together from both The T-Ender picture archive and those taken by Mike Dunstan, editor of the Tigers Review.
Downloading and installing your screensaver should be simple for all Windows users. All you need to do is click on the link below, select 'open', and everything should be automatically placed on your PC as the default screensaver. Enjoy!


City Screensaver Logos

Alternatively, why not have one of City's logos waving on your computer as a simple screensaver.
To install on MS Windows, right click on one of the bitmap files below and save it on your computer.
Go into your Control Panel and double-click on 'Display'. Choose the 'Screen Saver' tab on the menu. Go to the drop down menu on the left and select "3D Flying Objects". Next click on the "Settings" tab and choose 'Textured Flag' on the drop down menu. Lastly click on the "Settings..." button and use the browse menu to find the bitmap.bmp file of your choice where you saved it to earlier.
It sounds complicated, but it isn't - especially if I can manage it.


City Wallpaper

Below are the first of what I hope will be a growing collection of City wallpaper to decorate your desktop. For starters we have the City side of 2004-5 courtesy of Tony Hickey, and alternatively a collection of last season's action from The T-Ender and Mike Dunstan or a pitch themed design courtesy of Jason.

Installing wallpaper is simple once you've done it once. First you'll need to know your current screen resolution, normally 800x600 but this can be checked by doing a simple test. Right click on an empty part of your desktop and select properties, a table will appear and click on the 'settings' tab. This will tell you what your resolution is and also give you the option of changing it if you should wish.
To install the City wallpaper on your desktop, just click on the required resolution below the picture you want. A new window will open with your picture in it. Wait until it has finished and right click on the picture and select 'set as wallpaper'.