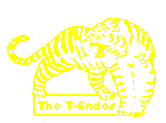 We welcome all contributions to the T-Ender. Please send any material for the site by
email to the address above.

Disclaimer
The views expressed on these pages are not those of Gloucester City A.F.C., its directors or officials, or of any other company mentioned. Neither do they represent the official views of the Gloucester City Supporters' Club or its committee.
While we make every effort to ensure information placed here is accurate we do not accept responsibility for errors that may occour. If you do find a mistake please let us know.

All pictures and material unless otherwise stated are the site's own and is
© www.t-ender.co.uk
All material may be reproduced with permission and appropriately attributed.
Supporters Trust Board

Chairman - Phil Warren

Secretary - Rob Kujawa

Treasurer - Trevor King

Elected Board Members:
Sandra Chase, Martin Messenger, Phil Gough, Judith Evans, Ian 'Taff' Compton, Gordon Pointer, Mike Dunstan.
Co-Opted Members: Joe Green, Dave Hatton.
Membership correct at September 2007 after election at Trust AGM.
Two members of the Supporters Trust Board represent fans on the City executive committee.
The Supporters Trust Board meets monthly and all members are welcome to attend as observers.
Next Trust Board Meeting:
18 October 7:30pm at Dowty Arle Court Social Club.
Recent minutes are below:-

Supporters Trust Board Meeting

The most recent meeting took place on 16th June. Meeting minutes can be read here.
Accounts for the year 2004-05 are being finalised for presentation at the Trust's AGM to take place on Sunday 4th September. Preperations are also under way for the distribution of the AGM invitation and nomination papers to Trust members.
The Trust has committed to funding coaches for the team's six furthest away trips next season. Discussions continue about travel arrangments for the remaining away games requiring transport.
It is hoped the club shop will be able to stock replicas of City's new third strip and the plain white away strip for next season. Other new season stock is also being ordered.
The trust intends to have a stall at the Carnival event in the park on 7th August to boost the club's profile in the community. A similar event outside Asda has been declined by the supermarket.
Trust membership is currently 190 - of which 63 are members through the 500 Club pledge scheme.

While enthusiastically supportive of the aims of the Supporters Trust. The T-Ender website is totally independent of the Trust and the opinions and views expressed on this site should not be seen as necessarily representing those of either the Trust or it's board.