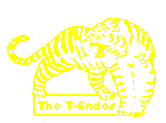 We welcome all contributions to the T-Ender. Please send any material for the site by
email to the address above.

Disclaimer
The views expressed on these pages are not those of Gloucester City A.F.C., its directors or officials, or of any other company mentioned. Neither do they represent the official views of the Gloucester City Supporters' Club or its committee.
While we make every effort to ensure information placed here is accurate we do not accept responsibility for errors that may occour. If you do find a mistake please let us know.

All pictures and material unless otherwise stated are the site's own and is
© www.t-ender.co.uk
All material may be reproduced with permission and appropriately attributed.
Gloucester City Youth
2004-2005
Gloucester City's youth team features players up to the age of 18. The side plays in the Southern Division of the Midlands Floodlit Youth League and has had a great deal of success since first entering the competition in 1992. The MFYL Southern Division title was won in both 1998/99 and 2000/01. Last season the side finished in a strong runners-up position behind Moor Green and also lifted the Herefordshire FA Youth Cup, beating Ch#*tenham Town in the final (and I don't know how we and Ch#*tenham enter two county cups either).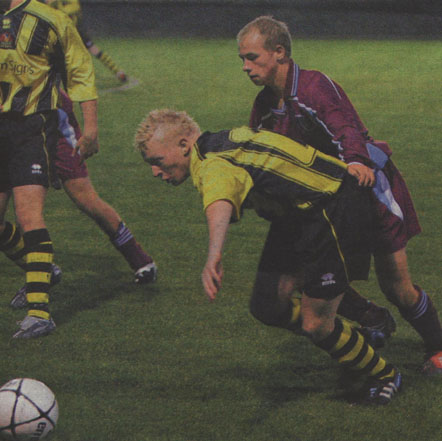 The youth team also has a strong record of producing players who go on to play for the Gloucester City first team. Some recent graduates include Neil Griffiths, Dave Wilkinson, Lee Smith and Tom Webb who are all now regular first team selections, while Lyndon Tomkins started his career with the Tigers youngsters before joining the City first team squad having previously proved himself at Cinderford Town. Even the current City manager Chris Burns cut his teeth coaching the City youth team whilst playing under Leroy Rosenior.

Of the current crop of youth team players the under-18's skipper Andy Varnam, Dan Avery, Karl Palmer, Michael Noakes, Jamie Reid, Dave Evans and Eddie Rimmer have all signed on Southern League forms and have featured on the fringes of the first team squad this season. The youth team also includes a couple of promising 15 year-olds who are already making an impact at this level of football.



The current youth team boss is former City striker Kenny Blackburn (left) who maintains the close link with the first team where he also helps with coaching. He has been quoted singing the praises of his current batch of youngsters as the strongest in several years, some boast considering several of those former players now play regular Southern League Premier football.

The Youth Team play home games at Meadow Park (normally on Monday evenings) and are always grateful for support with matches often great entertainment as well as providing a glimpse of our future stars. The youth team receives financial support equivalent to £50 a week from Gloucester City Supporter's Trust and is sponsored by Severn Signs, but they are still urgently seeking further sponsorship to cover kit and travel costs.
Picture (right): Michael Noakes in action for the City youth team (pic. The Citizen).


Fixtures & Results 2004/5

Date
Opponents
Result
Scorers (where known)
25th Aug. '04
Wellington (h)
3-2
31st Aug. '04
Worcester City (a)
1-3
8th Sept. '04
Bromyard Town (h)
6-1
15th Sept. '04
Weymouth (h) FAYC Prel.
0-2
22nd Sept. '04
Redditch United (h)
0-1
30th Sept. '04
Bromsgrove Rovers (a)
5-1
6th Oct. '04
Stratford Town (a) LC1
6-1
Rimmer(2), Reid(2), Forrester, Dunsford
20th Oct. '04
Malvern Town (h)
6-0
3rd Nov. '04
Dudley Sports (h) LC2
1-2
10th Nov. '04
Bromsgrove Rovers (h)
2-0
18th Nov. '04
Filton Academy (a) GFAYC2
2-1
24th Nov. '04
Worcester City (h)
1-1
29th Nov. '04
Bromyard Town (a)
6-0
Noakes, Rimmer, Turner, Hughes, Varnam, S.Avery
6th Dec. '04
Cinderford Town (h)
2-0
Noakes, Reid
13th Dec. '04
Henbury Old Boys (h) GFAYC3
4-1
Varnam(2), Rasdale, Noakes
5th Jan. '05
Alvechurch (h)
5-2
D.Avery(2), Noakes, Rimmer, Varnam
16th Jan. '05
Cadbury Heath (h) GFAYC SF
3-0
Varnam(2), D.Avery
2nd Feb. '05
Wellington (a)
1-0
7th Feb. '05
Evesham United (a)
4-0
Pritchett, Rimmer, Varnam, Forrester
23rd Feb. '05
Evesham United (h)
2-0
10th March '05
Alvechurch (a)
2-0
17th March '05
Malvern Town (a)
4-0
Reid, D.Avery, Turner, Dunsford
7th April '05

Cinderford Town (a)


3-3
13th April '05
Redditch United (a)
1-0
7th May '05

Shortwood United
(@ Tuffley Rovers) GFAYC Final

1-1
Varnam (lost 4-5 on pens after extra time)


City's youth side have enjoyed an impressive season and were very unfortunate to end the campaign without a trophy. In the Gloucestershire County Cup impressive victories over a Filton Academy side closely linked to Bristol Rovers and further wins over Henbury Old Boys and Cadbury Heath set up a north Gloucestershire final against Shortwood United. This ultimately ended in disappointment as City were edged out on penalties.

The league campaign ended with City a highly credible second in the MFYL Southern Division, just three points behind champions Worcester City. During the sseason the City side suffered just two league defeats, and went undefeated since September '04. This bodes well for the following season as nearly all the squad are still able to play under-18 football in 2005/6. Midfielder Eddie Rimmer finished as the side's top scorer with eleven league goals to his name.

For further information on tables visit the Midland Floodlit Youth League website.

All matches listed above are in the Midland Floodlit Youth League Southern Division unless stated.
Other Competitions are the FA Youth Cup and the Gloucestershire FA Youth Cup (we received a bye to the2nd round)

Fixtures and kick-off times are subject to alteration.
Unless otherwise stated City youth team home games are played at Meadow Park with a 7:30pm kick-offs.
Admission is a mere £2 for adults and free for under-16s.




Gloucester City Boys Football

The budding football stars of the future now have an opportunity to test themselves in a higher standard of football in Gloucester City colours during 2004/5 as the club has agreed to join a new junior league for under 16s.

The Midland Junior Premier League intends to bridge the gap between professional club acadamies and local junior sides and hopes to attract new grant funding and sponsorship. All clubs will have to meet standards of coaching with medical and welfare provision for their young players. More than 20 clubs have signed up to the new league with Hereford, Worcester, Cirencester, Tamworth and Cinderford amongst those likely to play City's under 16 side next season. It is hoped the new team will generate a regular flow of quality into the City youth side and on into the first team squad.

As a result Gloucester City are now also starting a side to play at under-13 and under-14 level, ensuring players get a chance to develop in our style of football from a young age. The boys are keen for support and play their football on Saturday mornings and lunchtimes.

Gloucester City also run school holiday training schools where children can enjoy specialist football coaching before a day trip to one of the top Premier football clubs. Click here for further details.
The club is also running a 7-a-side tournament for u-16 school sides at Meadow Park on Saturday 8th May. Those interested in entering should email Natalie Ward for a registration form and further details.